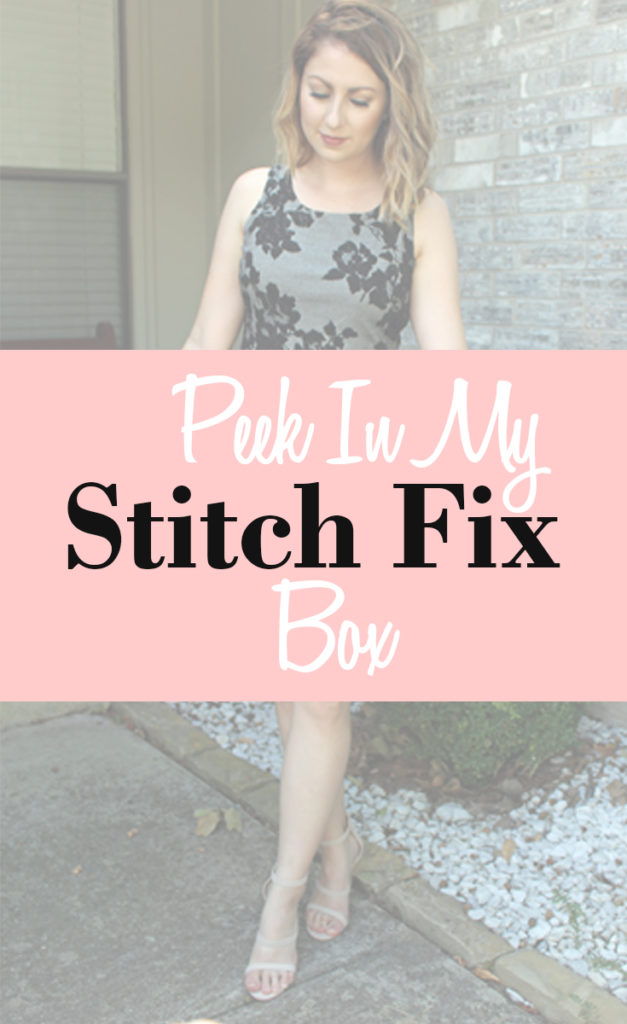 I am so excited to share with y'all what I received this month in my Stitch Fix! There are definitely some keepers and some I will be sending back.. womp womp.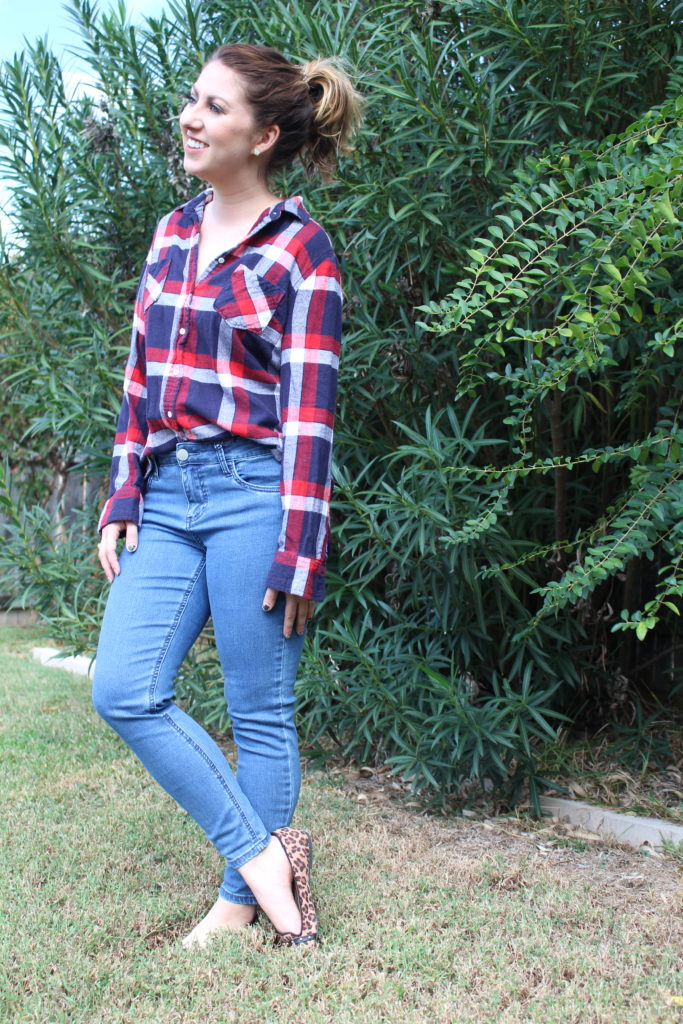 First up are the Arlowe Skinny Jeans, priced at $78. The one thing that impresses me most about Stitch Fix is the sizes they choose for me. When filling out the initial "style profile", they ask your measurements and I have been pleasantly surprised to receive pants/jeans that actually fit pretty decently. I love styling this with a cute flannel and leopard flats because pattern mixing is all the rage right now. These jeans are stretchy (which I love) and only time will tell whether they are the kind that get stretched out after wearing for a while (which I hate).
Flannel from Target (Old) Similar here and here
Cheetah Print Flats from Target (old) Similar here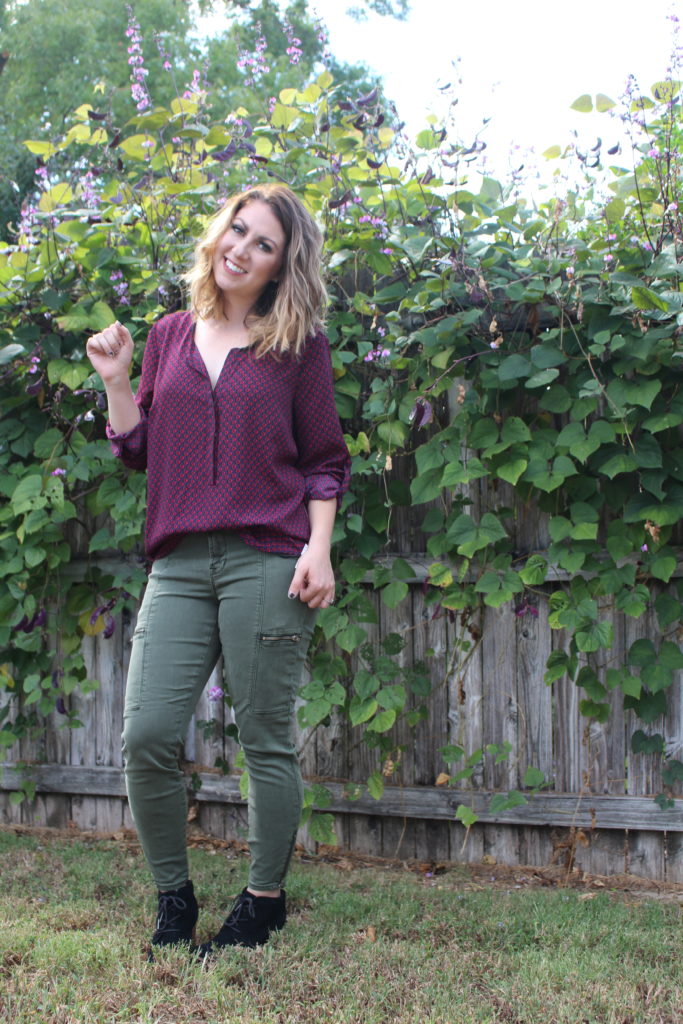 Next is a two-fer. I paired the Daniel Rainn Lorence Henley Blouse priced at $68 with the Pistola Topanga Cargo Zipper Detail Skinny Pant $88 (what a mouthful). The top is super cute and I don't own a lot of tops like this but I know I will get a lot of wear out of this! I really like the length of it and it can be worn tucked in or just out and flowy. The pants on the other hand, I will be sending back… I am not a huge fan of the zipper detail on the FATTEST part of my thigh. Mama don't need anything else drawing the eyes to these squatty legs 😉 Additionally, I already own one pair of olive skinny legging/pants with zippers at the ankles and figured one is enough for me!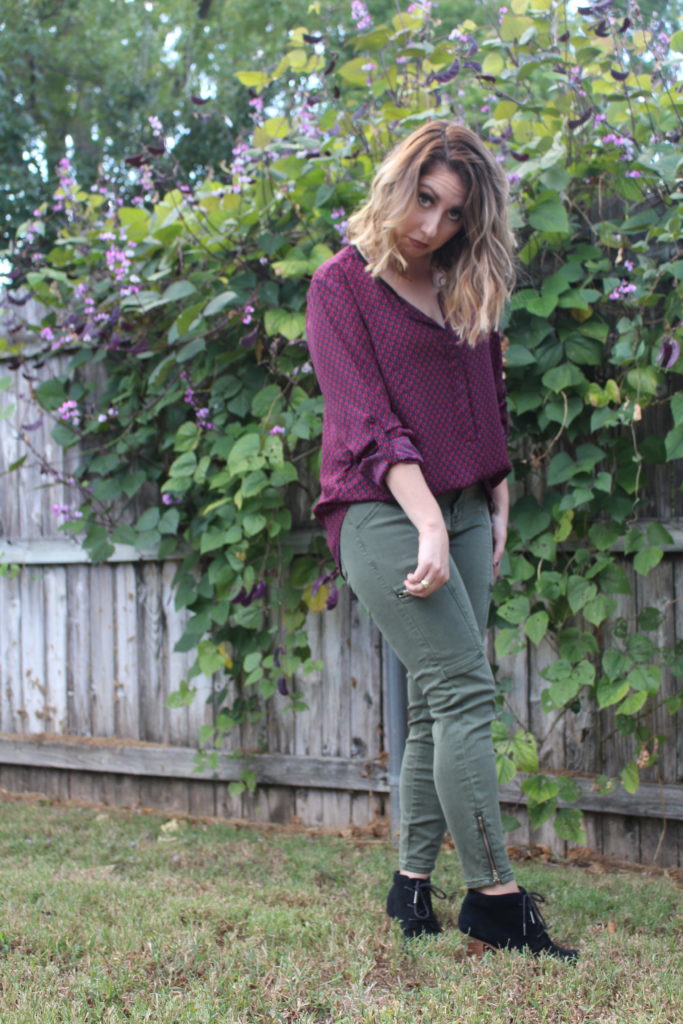 Similar Top: here
Similar Olive Skinny Jeans: here
Fave Black Booties: here (currently on sale!)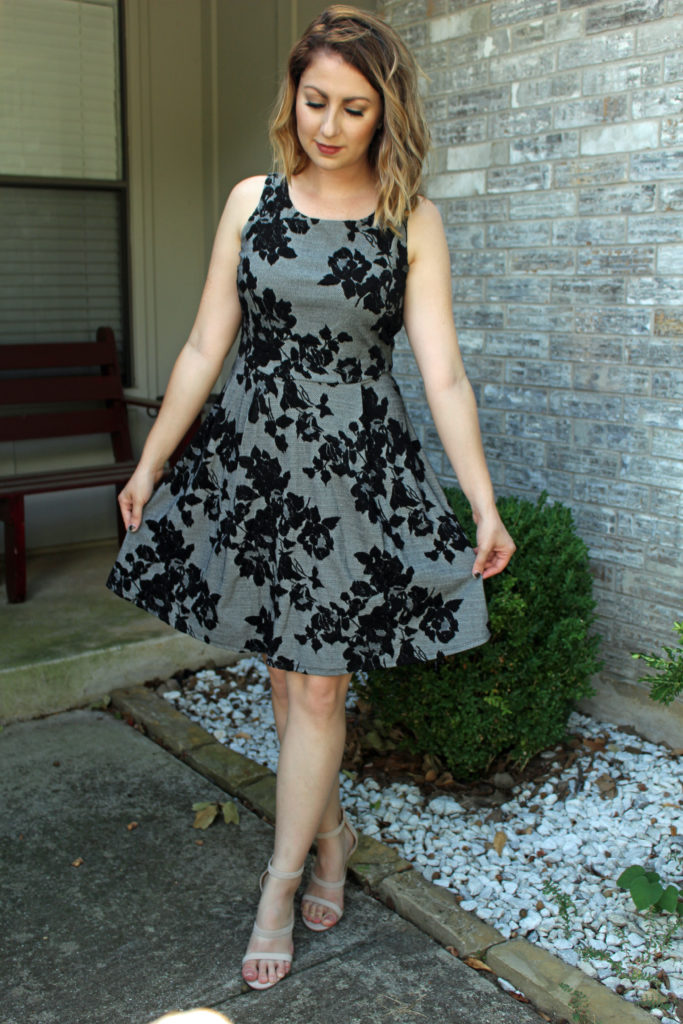 This Crescent Leeanne Textured Knit Dress ($58) is so soft and comfortable. Of course, anything in these black and grey neutral colors is going to capture my heart. I will definitely be wearing this to church in the upcoming weeks!
Nude heels: here
Finally, last unfortunately is least today… This Skies are Blue Asa Knit Blazer ($68) was just a dud for me. Although it feels like a soft cardigan on, I just don't think a blazer is really necessary for the Stay at Home Mama life. This would be PERFECT for the working ladies… especially for casual Friday with jeans. Pair it with a cute blouse, black skinny jeans and heels and you've got yourself a cute outfit.
All in all, I'd say I am pretty pleased with this Stitch Fix. It's always so much fun to try things that you might not pick out for yourself.
The run down on Stitch Fix: You can choose how often you want a box to be sent. You fill out a "Style Profile" about your clothing preferences, measurements, price point, etc. The styling fee is $20 per box, but it can be applied to your purchase. Your stylist chooses 5 items for you and you can choose to purchase all five items for a 25% discount, or you can pick and choose which items you want to keep. You have 3 days to decide what to keep and then you just log into the website, pay for the items and send the ones you didn't want to keep back in a prepaid envelope. It is encouraged to give feedback to your personal stylist so she can match your style to you. If you would like to give it a try, follow this link.
*Please note there are affiliate links in this post which means if you click on a link and purchase something, I might receive a small commission. Thank you for reading and supporting my blog!