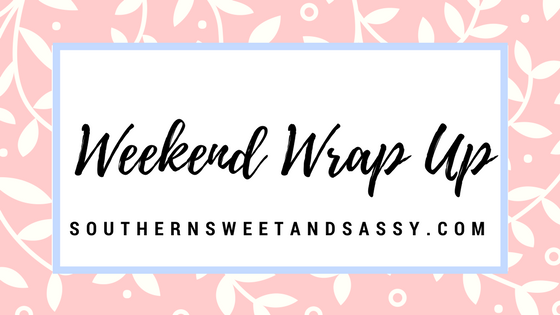 Ok, y'all. I am going to be completely honest with my readers. Life hit hard this week. Nothing bad, just sick kiddos, events, and a weekend away from home. This resulted in deviating a little from my Whole30. While I am bummed that I couldn't stay on plan despite these obstacles, I do not regret straying. Why? Because I am living life. I have two toddlers that think it is so funny when they feed me their food. I have a husband that wants to take me to a work function. I have incredibly generous in-laws that offer us opportunities to attend as many Texas A&M football games as we can. Life. I wouldn't change it. 🙂
So yes, I failed at Whole30 this week. I am not going to quit eating Whole30 approved meals. But with the holidays coming up, I am going to put my strict Whole30 on hold until January. It's all about balance. 😉
I do want to share a recipe that I have been eating on all weekend… I like to rate the meals I make based on the comments from David. This one got multiple compliments from him so I'd say it is a definite winner.
Whole30 Beef Chili
Serves: 8
Active Time: 15 Minutes
Total Time: 75 Minutes
Ingredients
2 jalapeño peppers
8 cloves garlic
1 yellow onion
3 green bell peppers
4 tablespoons olive oil
2 pounds ground beef
29 ounces tomato sauce
29 ounces diced tomatoes
2 tablespoons chili powder
2 teaspoons sea salt
2 tablespoons ground cumin
How To Prepare
Remove the seeds from the jalapenos and then dice. Mince garlic. Dice yellow onion and bell peppers.
Place a large pot over medium-high heat. Add oil to the pot and swirl to coat. (I used this.)
Add beef and sauté until browned, breaking the ground beef into small pieces. (This tool saves so much time!)
Add peppers and onions to pot and sauté for about 5 minutes, until soft.
Add garlic and sauté for an additional minute.
Add tomato sauce, diced tomatoes, jalapeno, and spices and stir well.
Let simmer for about an hour, stirring occasionally. 
This was adapted from The Kitcheneer's Crockpot Beef Chili Recipe that you can check out here.
On to the Weekend Wrap Up…
Thursday evening David and I got dressed up and headed to the Dallas Arboretum for a vendor event for his company. We couldn't have asked for a better evening to spend outside. We watched the sun set over White Rock Lake and listened to an outdoor concert as well.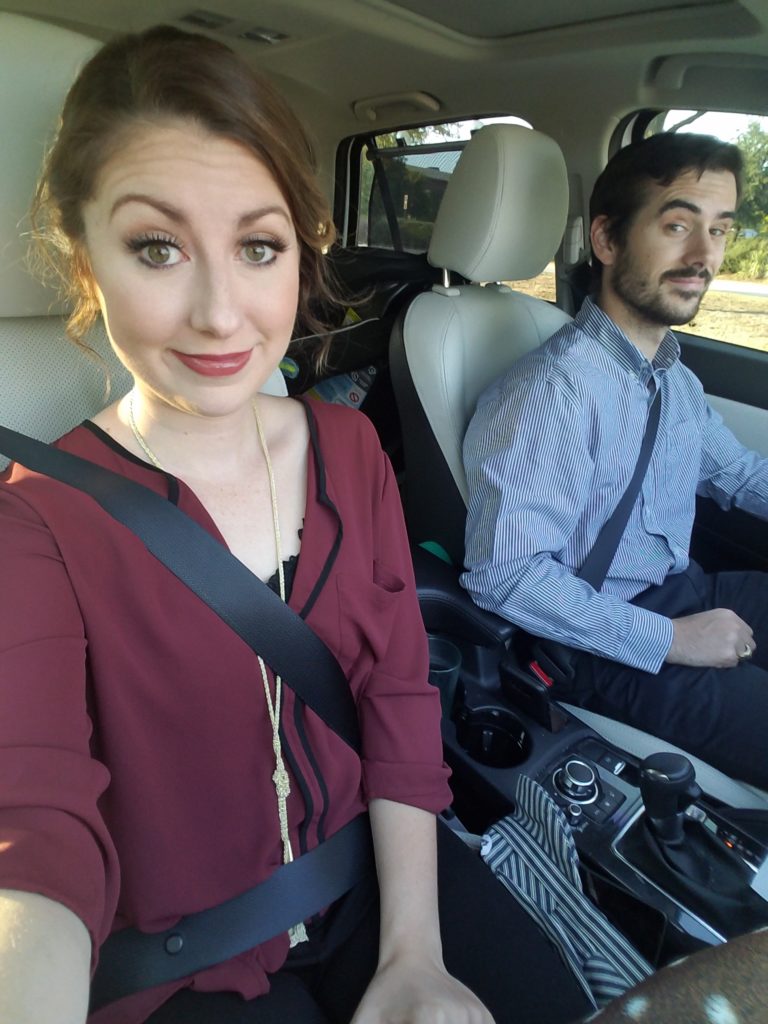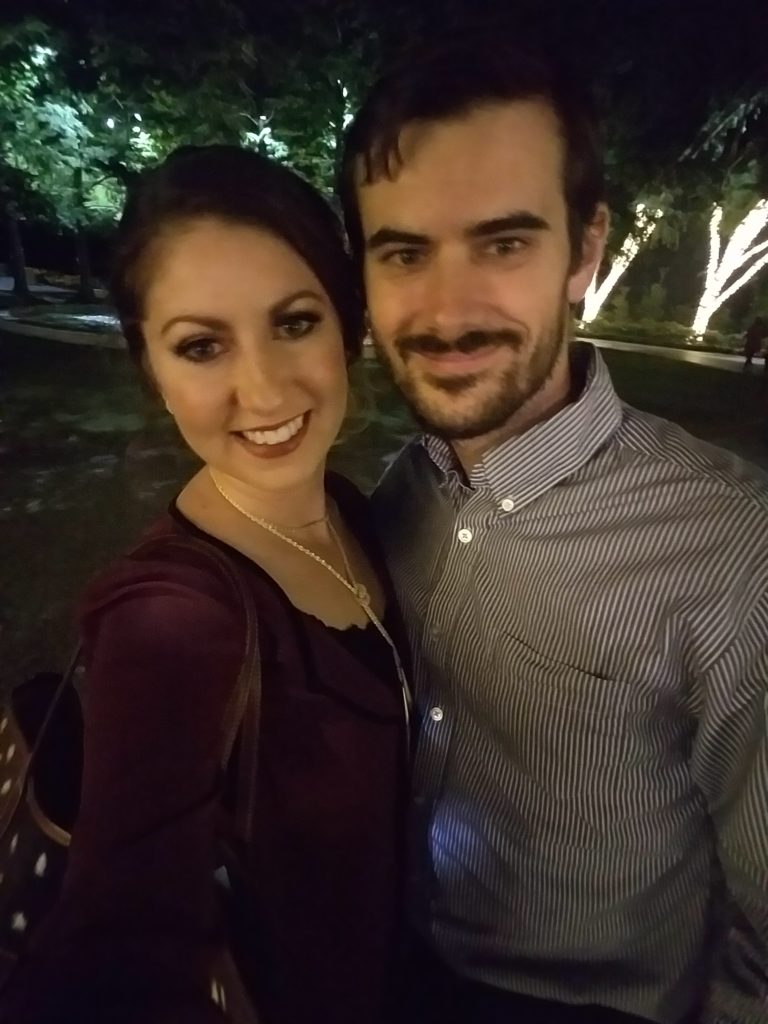 wearing my fave necklace, Lips in the shade Bella, and these lashes 😉
Friday we packed up and headed to College Station for the weekend! This little guy had a rough morning and was out within 10 minutes of hitting the road.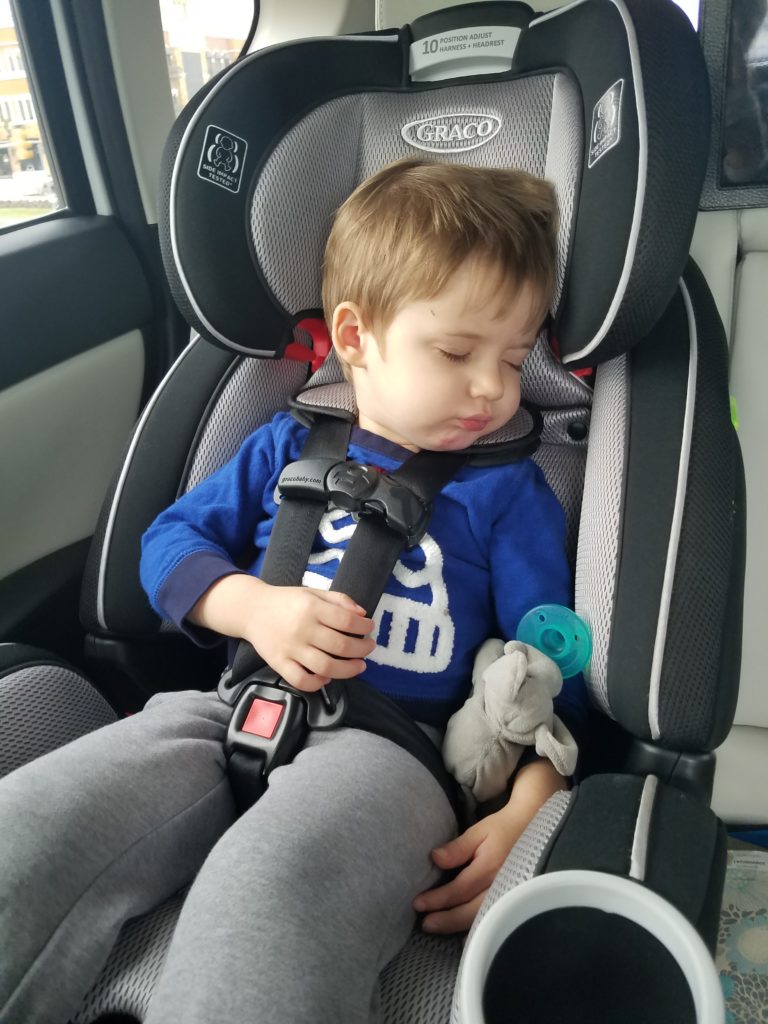 Saturday morning we ventured out to Veterans Park where David and I spent a LOT of time when we lived there. We played on the same soccer team (hah!) and played all of our games there. The park has some pretty trails that I used to run and we took the boys on a walk!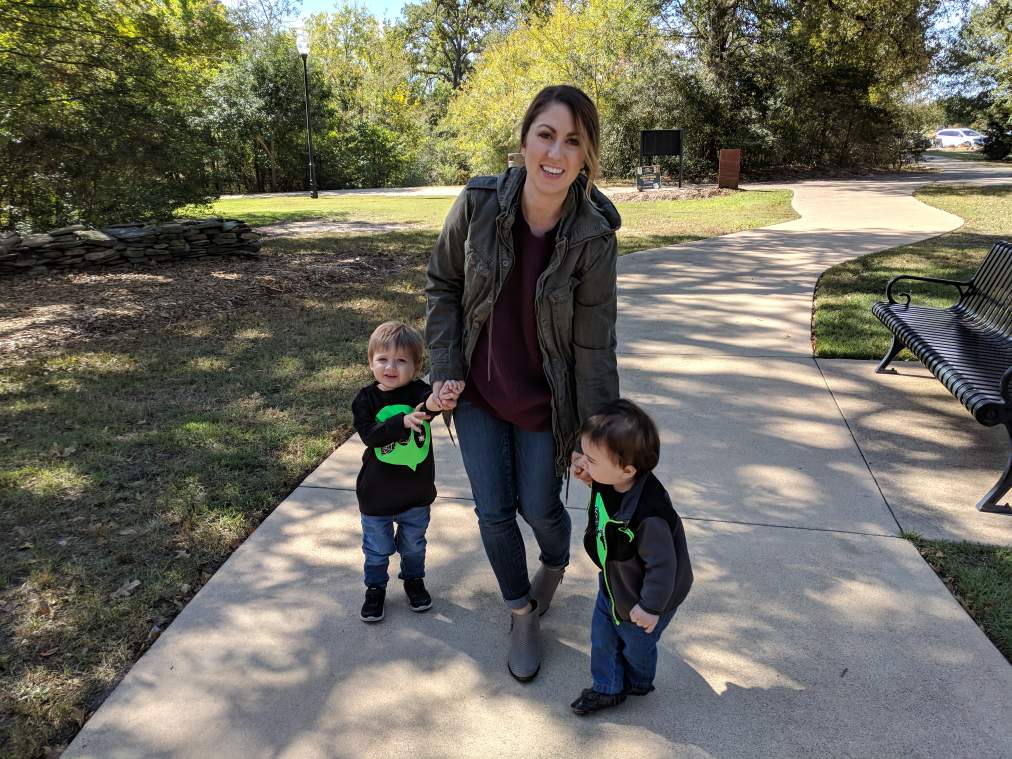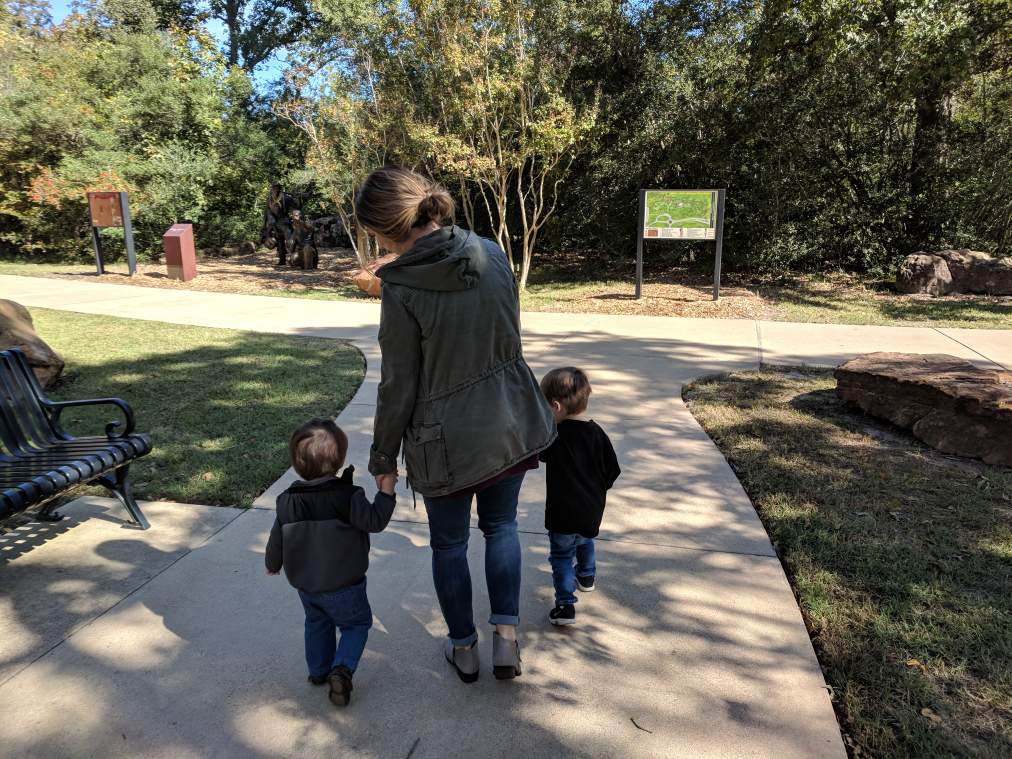 We let them loose and they ran around for a while…and then discovered little flowers (weeds) growing in the grass! haha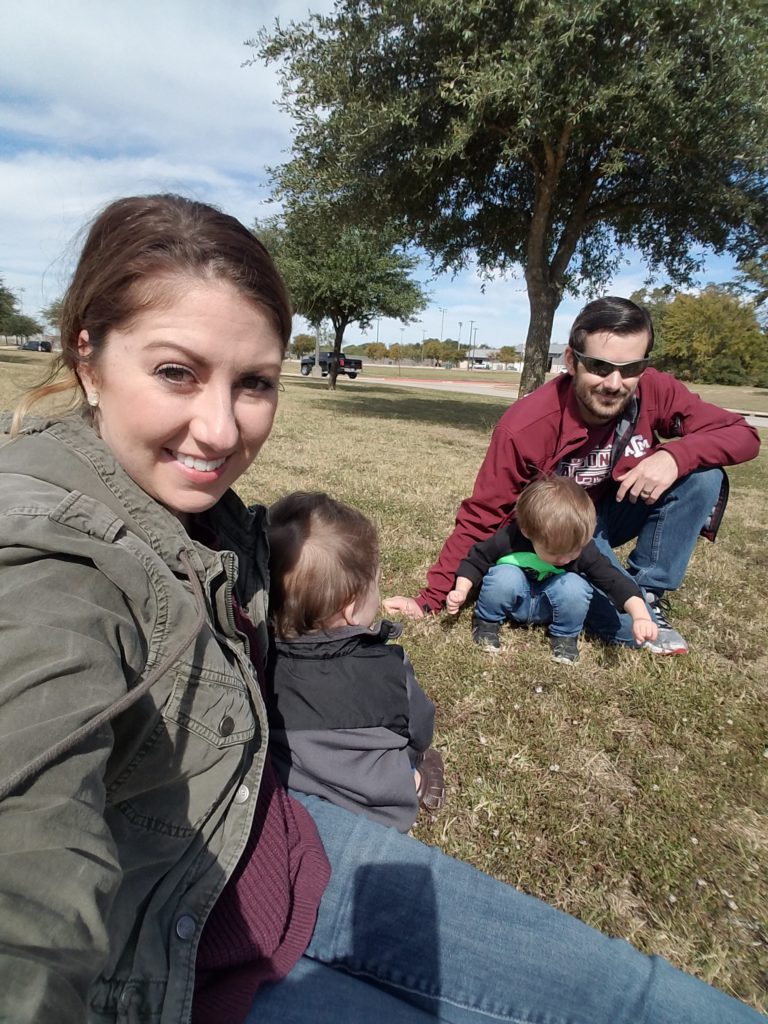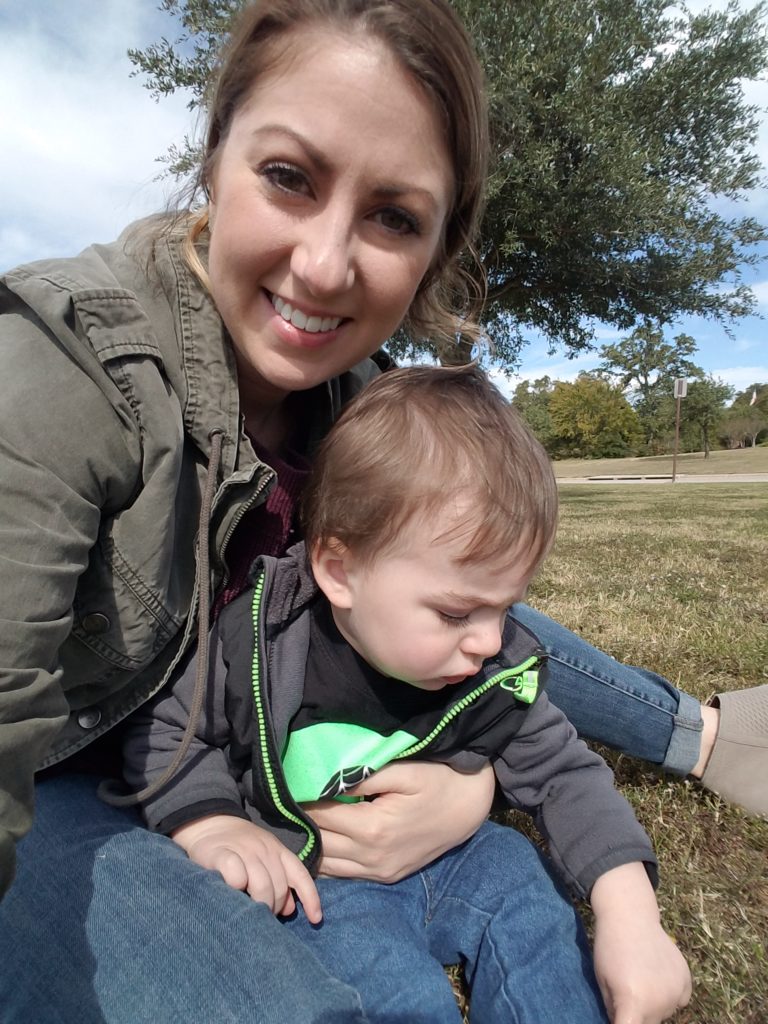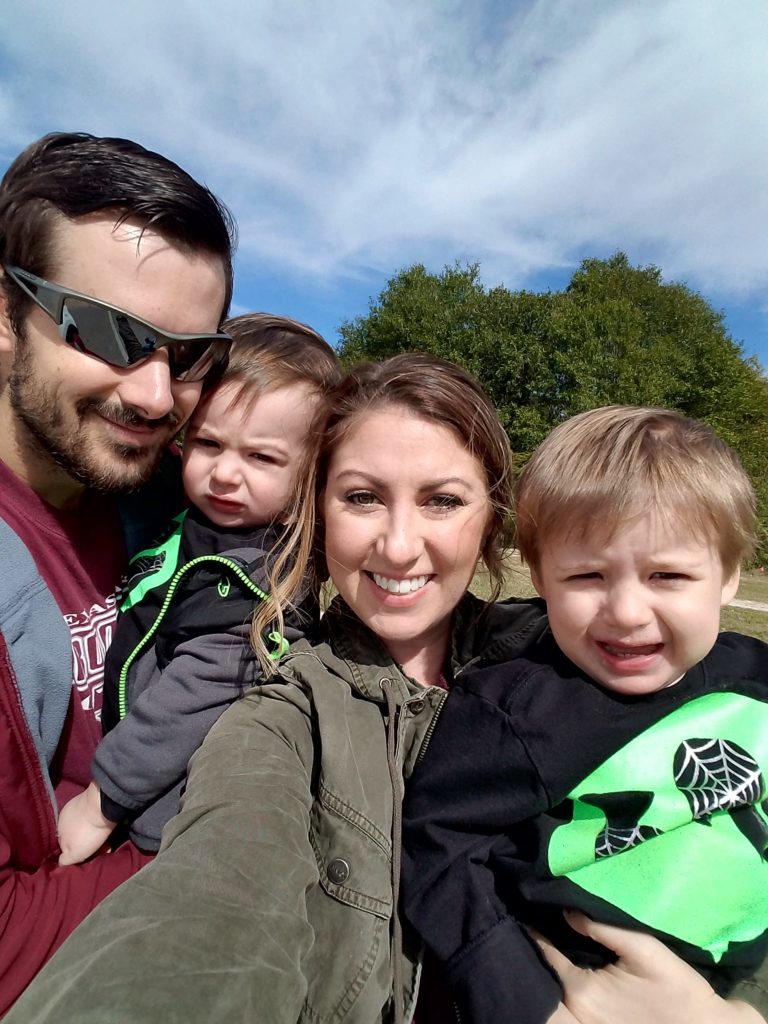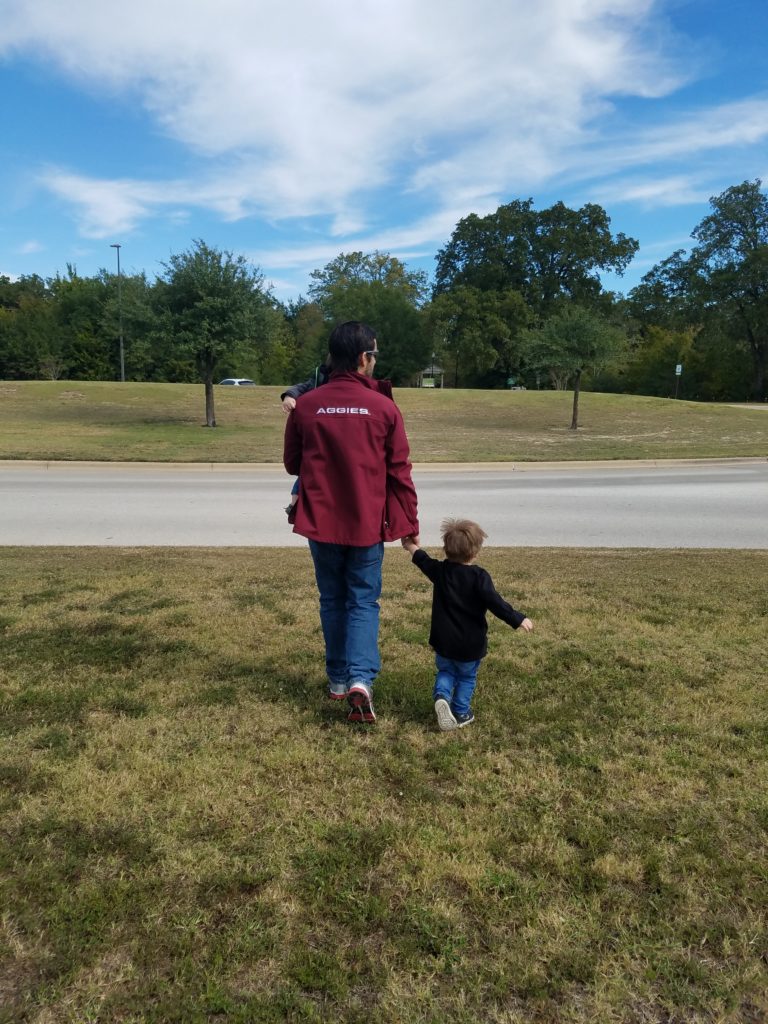 We headed back for lunch and naps and then it was time to head towards campus. We left Benny Boo with Auntie Mel because she was missing her boys and Ben would have been much happier (and free to roam) staying back at the condo.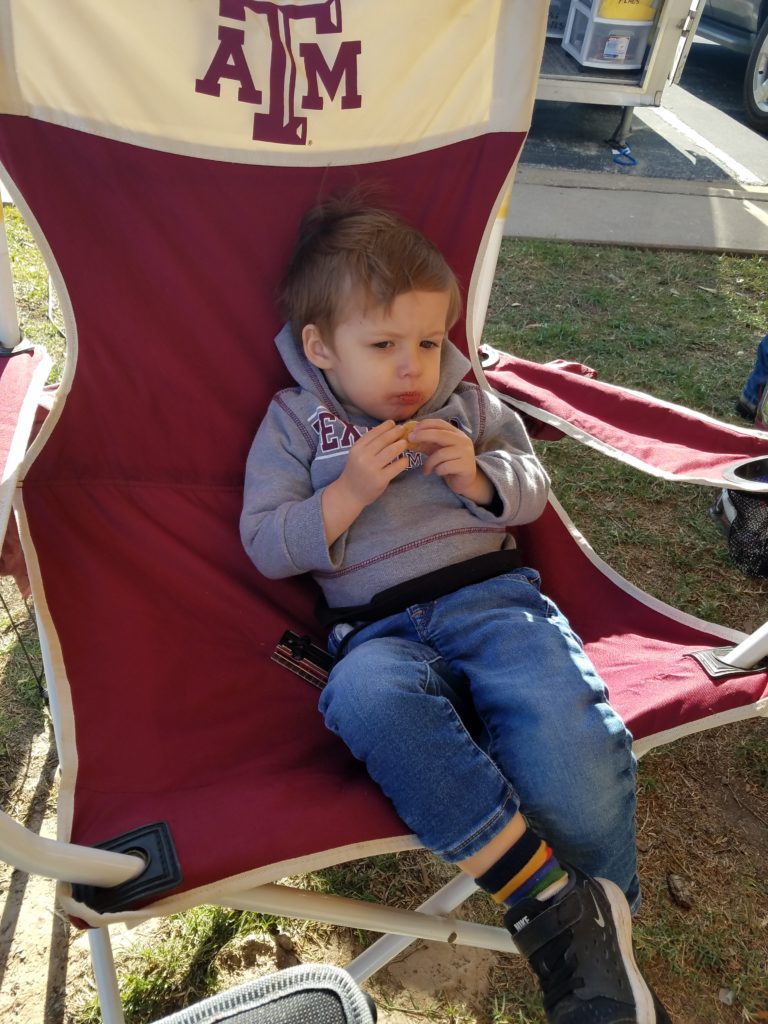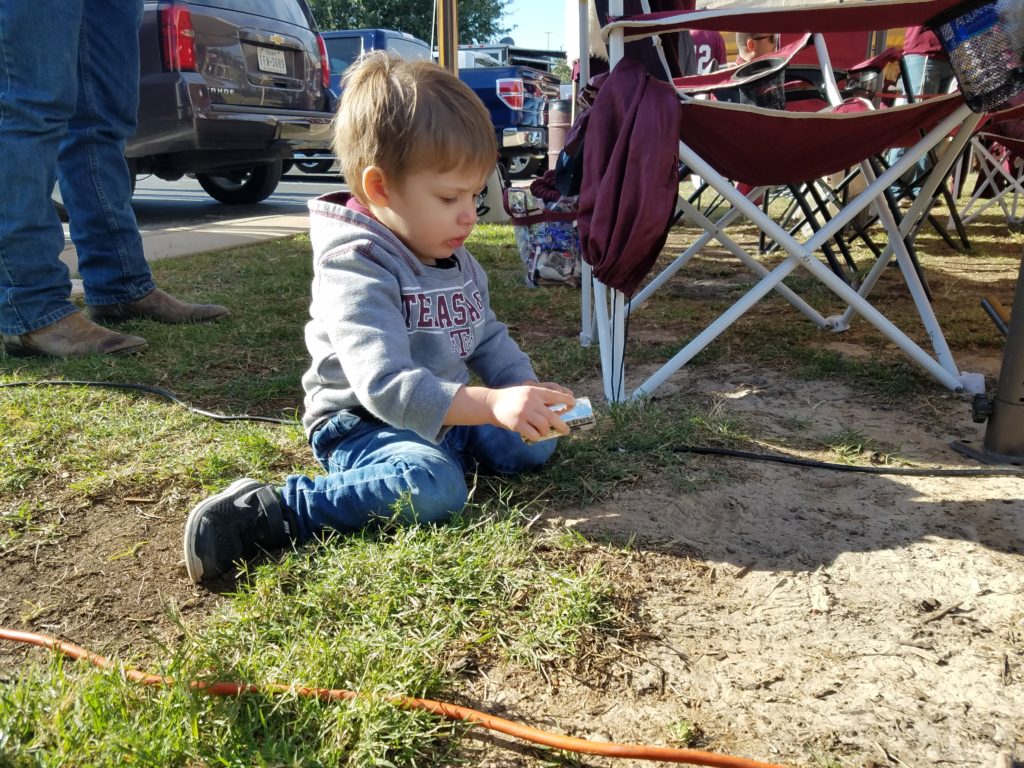 Because tailgating should be all about eating cookies and playing with your Hot Wheels bus in the dirt.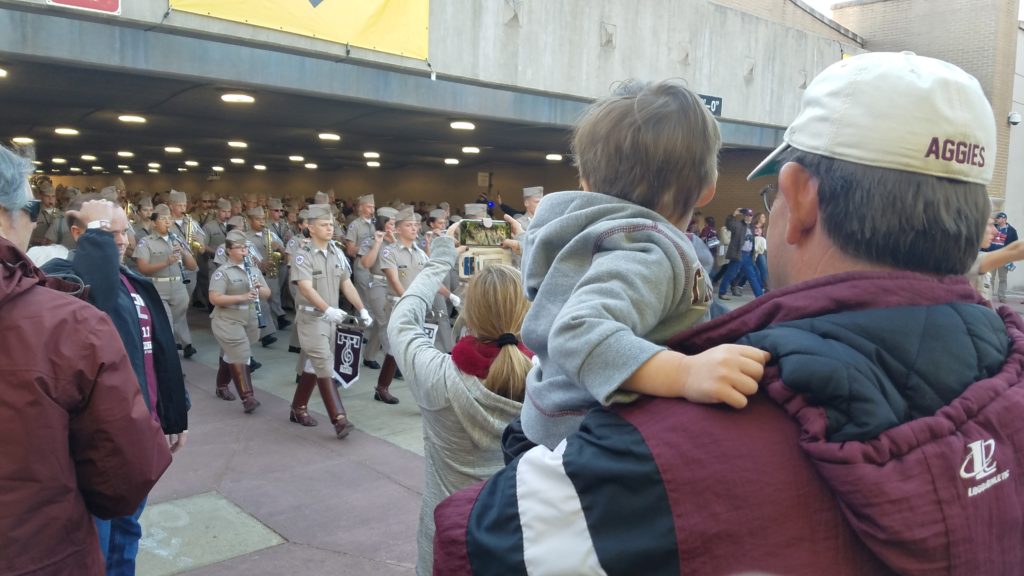 We watched the Aggie Band march in.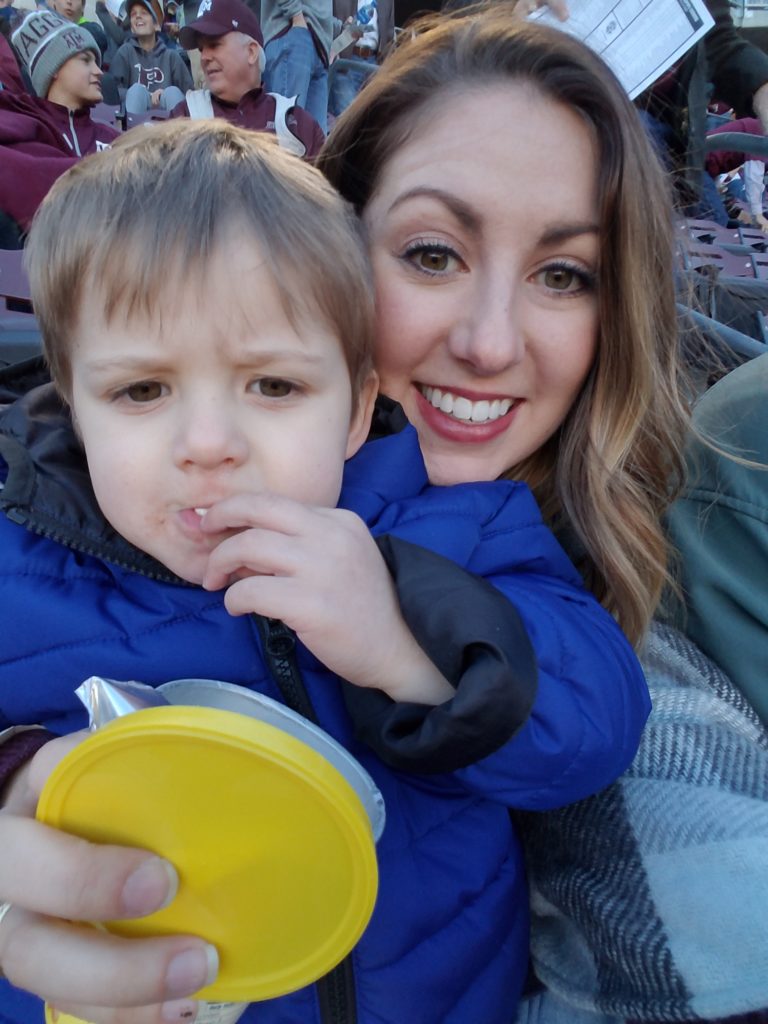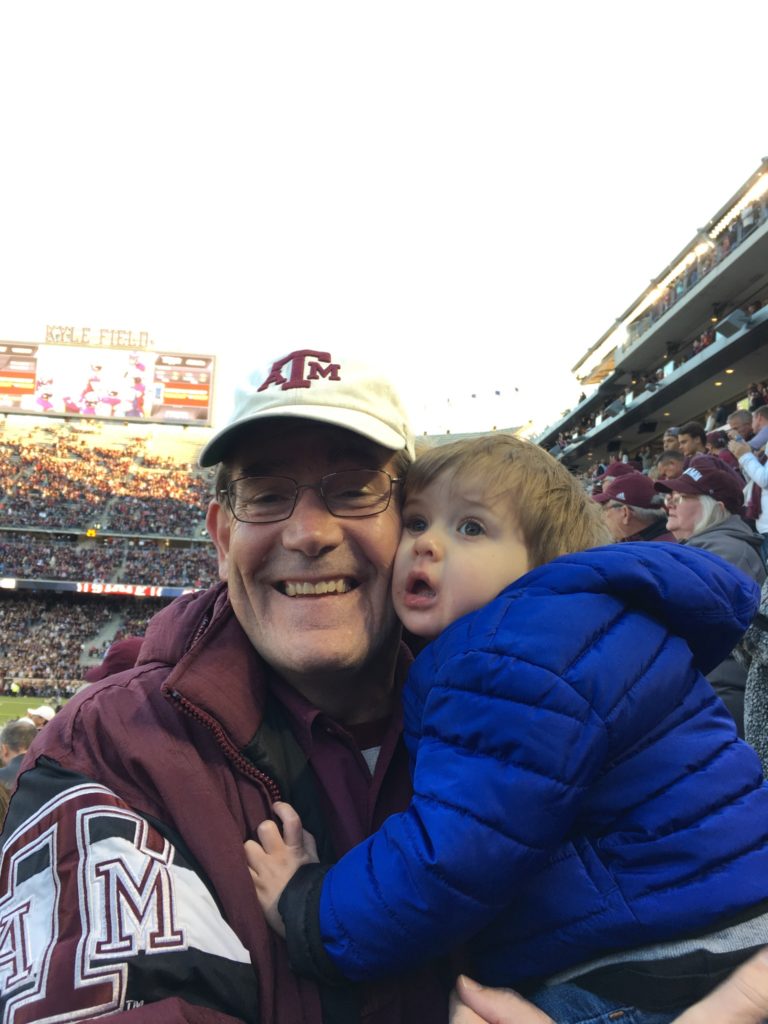 We have no idea why Luke was cheek to cheek with his Papa… it looks like he is locked in watching the big screen!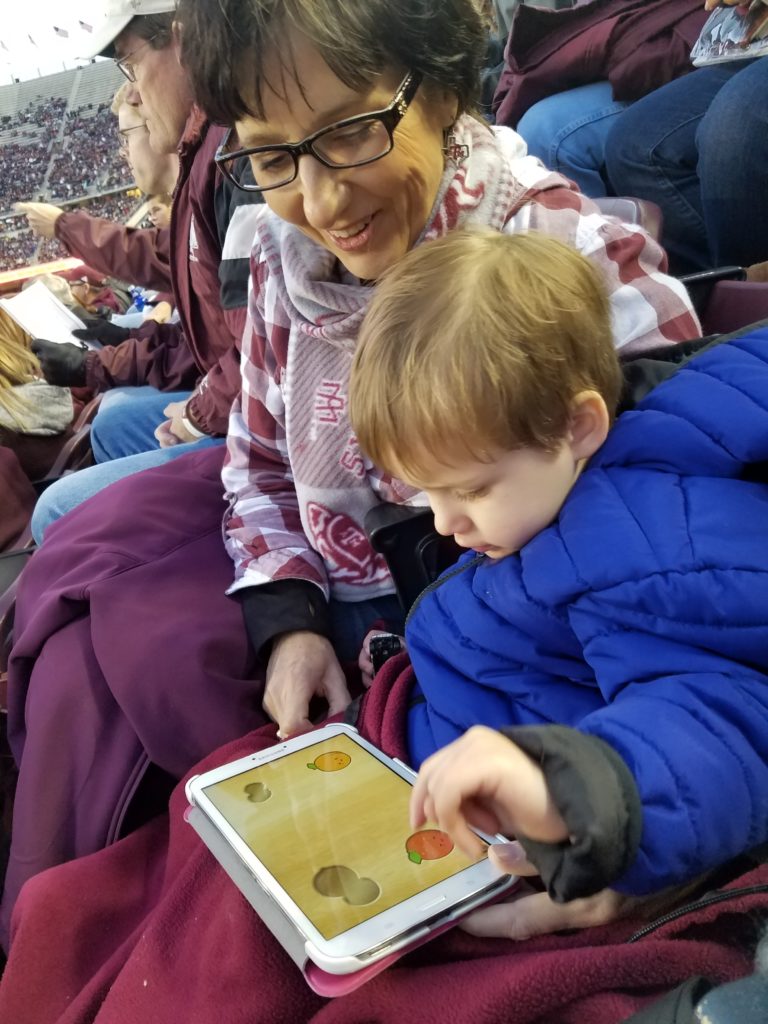 A mom's gotta do what a mom's gotta do…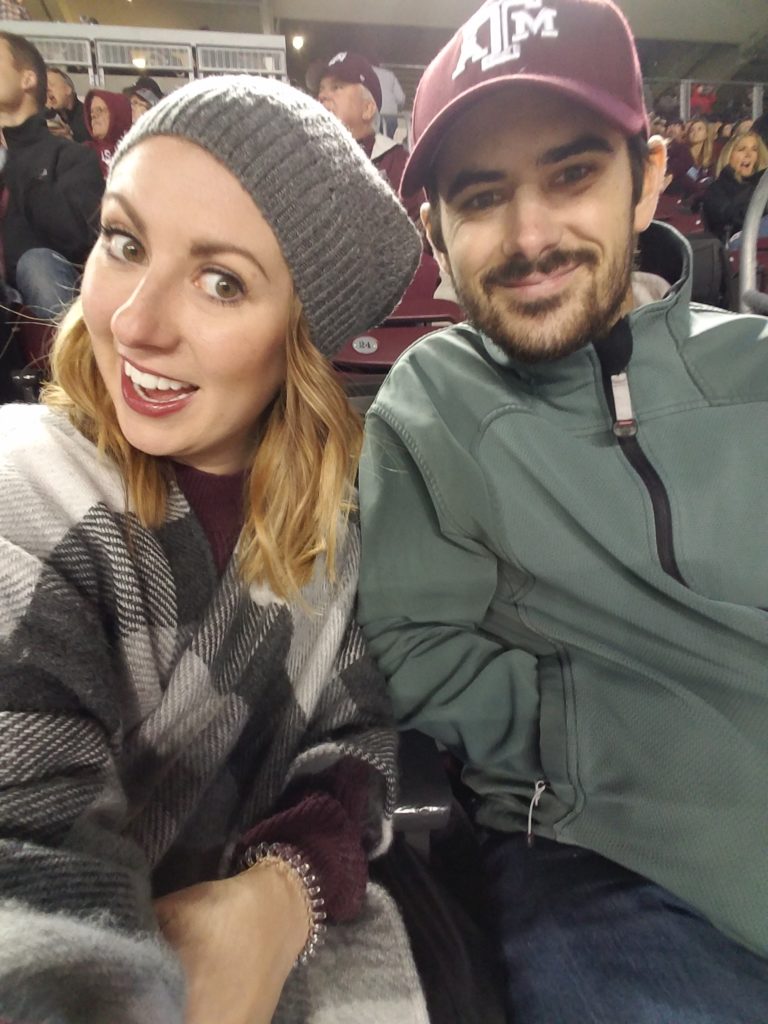 "Dave, does this beanie make my head look weird?" – Jordan "Ummm"-David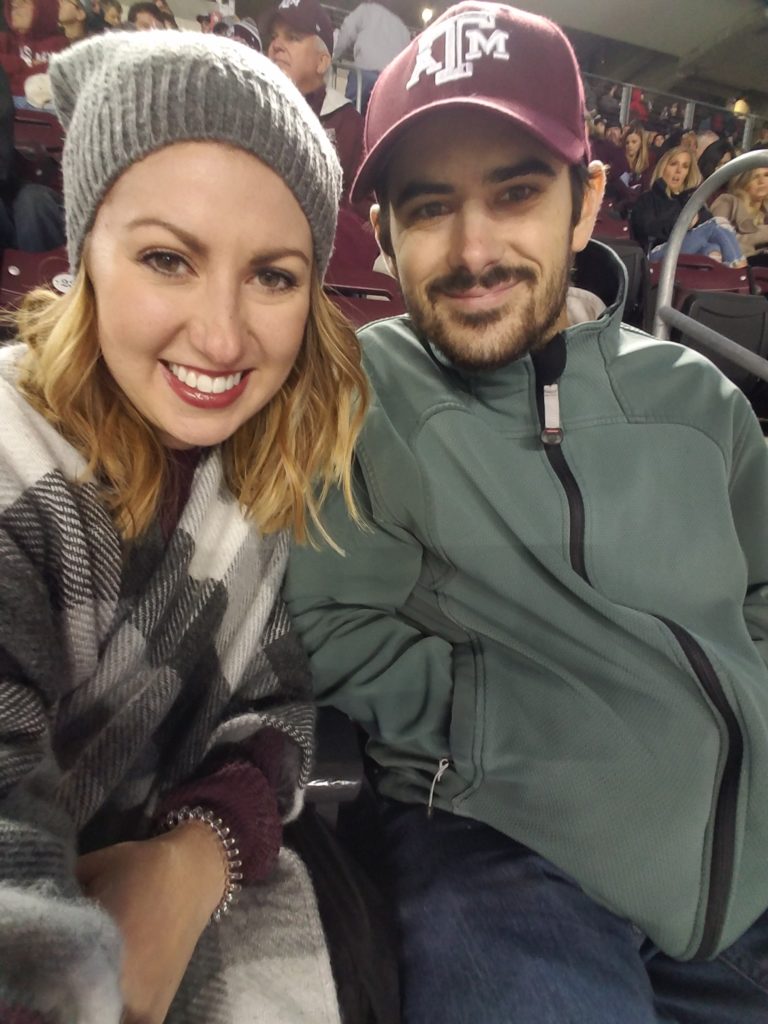 Warming up in the Club after the game. Our Aggies lost and it was cold but it didn't damper our spirits! 🙂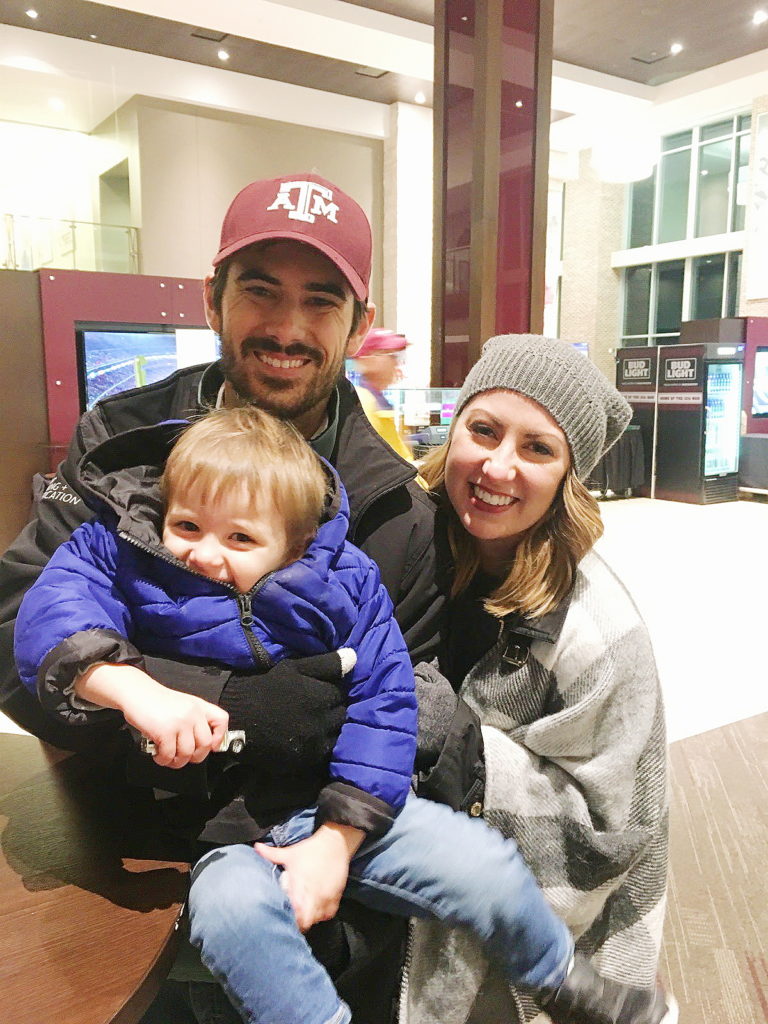 This wrap kept me so warm throughout the game! Best part? its less than $30
The best way to leave the stadium… be sure to hang on to Papa's ears 😉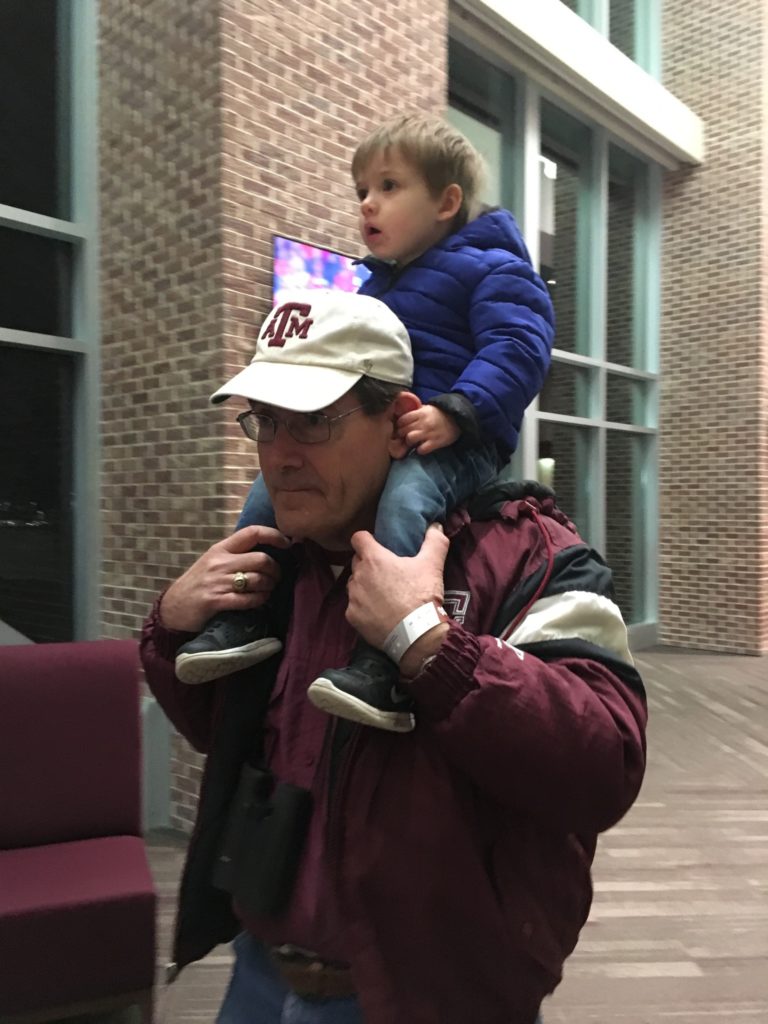 Sunday was full of traveling, short naps and fussy/sick kiddos…Gearing up for a new (and busy) week!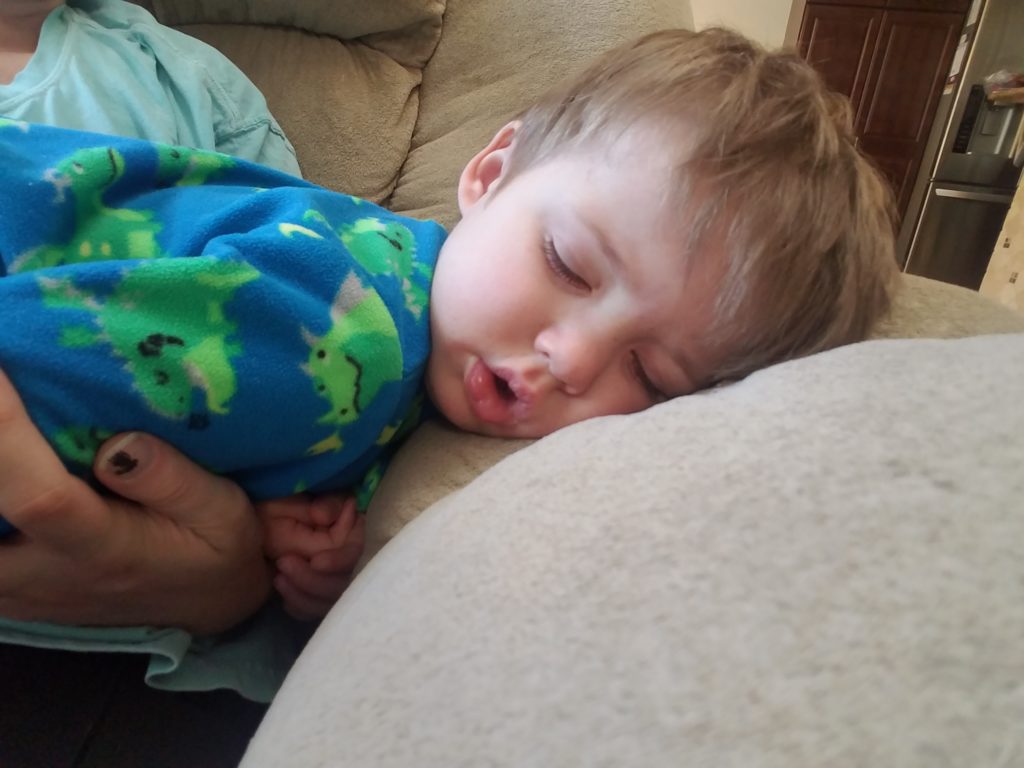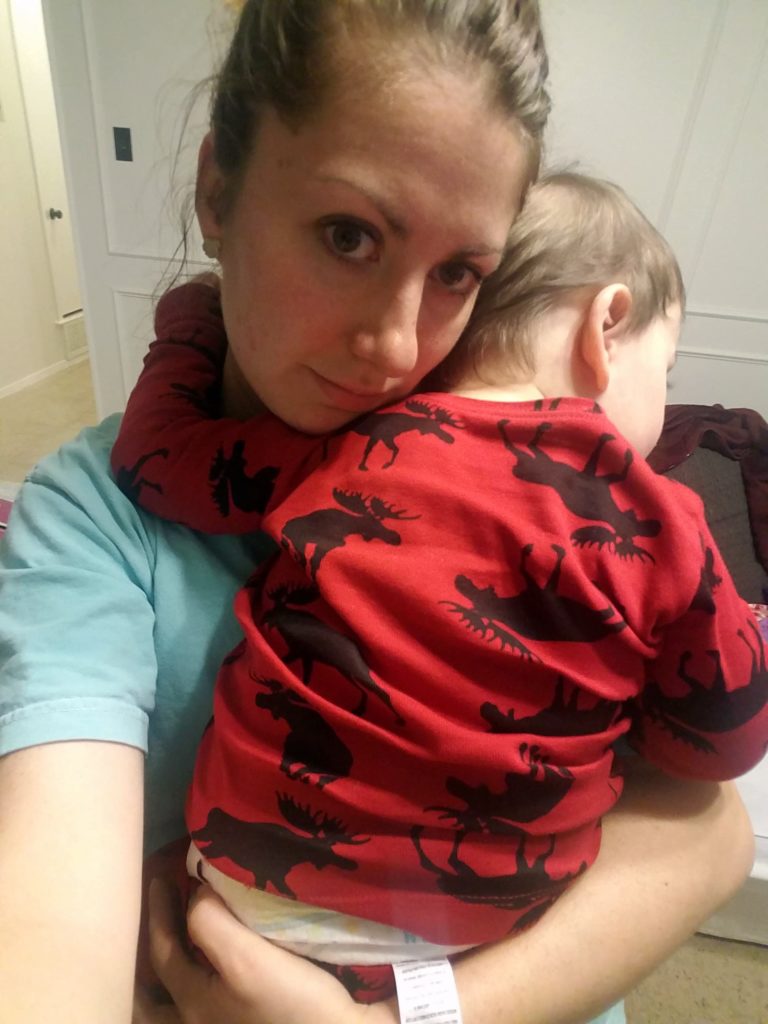 *Please note there are affiliate links in this post which means if you click on a link and purchase something, I might receive a small commission. Thank you for reading and supporting my blog!