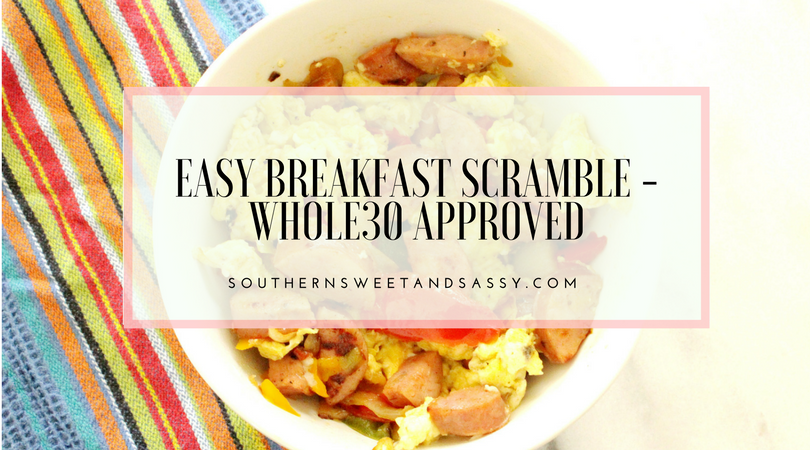 In our house, mornings can be a little chaotic. Being on Whole30 requires extra time in the kitchen and it can be a struggle to get breakfast made in a timely manner. My easy go-to breakfast on Whole30 is an easy egg scramble. Let's be honest here, when you are just waking up and struggling to drink your coffee while it is still warm, you need something quick and easy.
Starting off your day with a protein packed meal gives you the boost you need to get through the day. This meal will definitely keep you full until lunch – especially if you pair this with an apple and some almond butter…yum!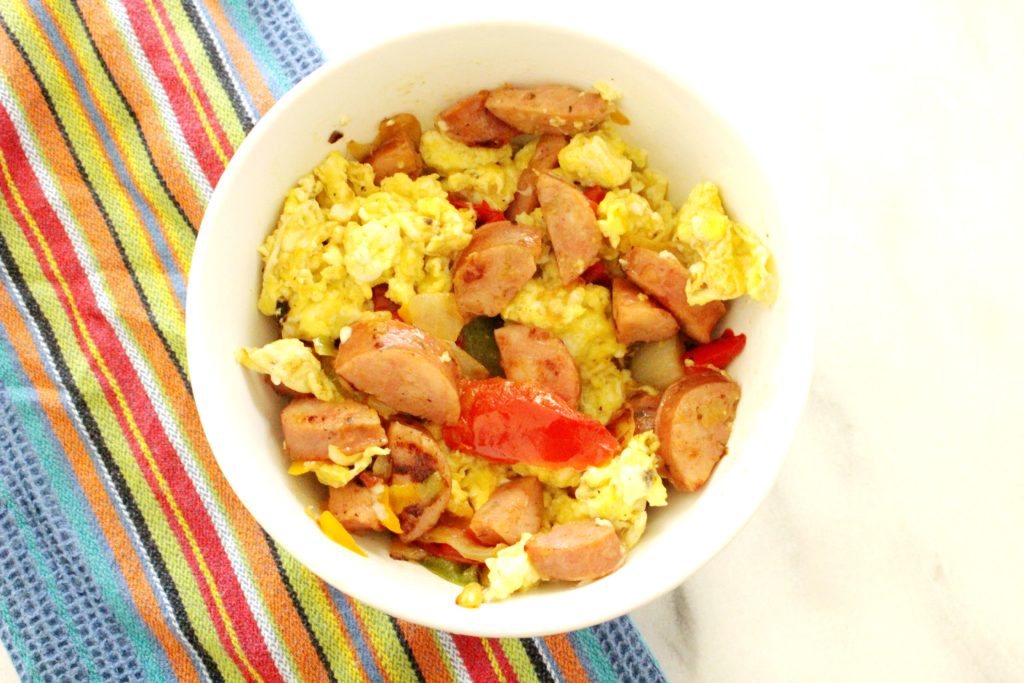 The best part about this scramble is you can use whatever you have on hand. I always keep frozen onions and bell pepper mix in my freezer and I have learned to stock up on the Aidell's Chicken and Apple Sausage (find it here, or I get it from Walmart or Costco).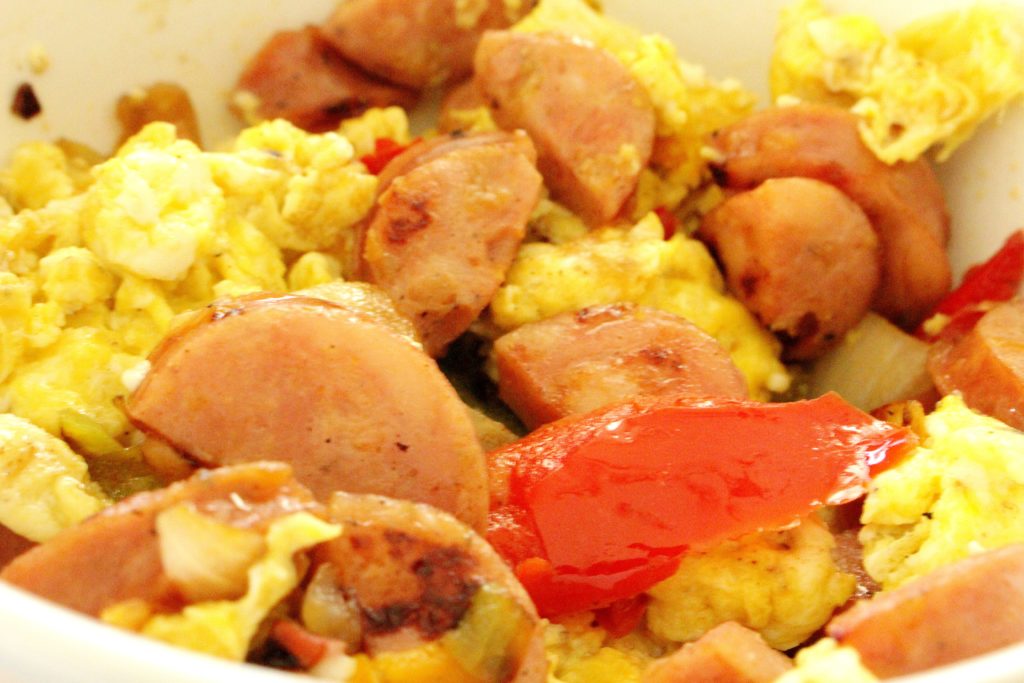 I really think the clarified butter takes the eggs to another level… it just adds a great taste to an otherwise bland dish! You can make your own clarified butter by following this recipe.
Usually, I end up making 4 eggs and share with my two little moochers since they love eggs as well. Depending on how hungry you are in the morning, you can adjust pretty much everything to your liking.
Be sure to pin this to your Pinterest for referencing later!

Hearty Egg Scramble
Whole30 approved breakfast
Ingredients
1

tsp

clarified butter

frozen onions and bell peppers

1

link

Aidells Chicken and Apple Sausage

2-3

eggs
Instructions
Heat skillet with a dab of clarified butter, add frozen onions and peppers to your liking. Let cook for a minute until they have thawed out.

Slice up the chicken sausage and then add to skillet. Stir occasionally and cook until sausage gets a little char on it. (FYI - this sausage is already cooked so you don't have to worry about cooking all the way through)

Once cooked, move sausage and peppers to a bowl. Crack eggs and whisk until combined. Add salt and pepper to taste.

Add another dab of clarified butter to skillet then add eggs and scramble to your preferred consistency. Mix all together and enjoy!
Another way I like to mix things up in the mornings is to add leftover veggies from the night before, or cut up a little sweet potato and cook it for the scramble. The possibilities are endless. I would love to hear how you would mix this recipe up!
Please note there are affiliate and referral links within this post which means I may receive a small commission if you make a purchase with no additional cost to you. Thank you for supporting me and my blog!