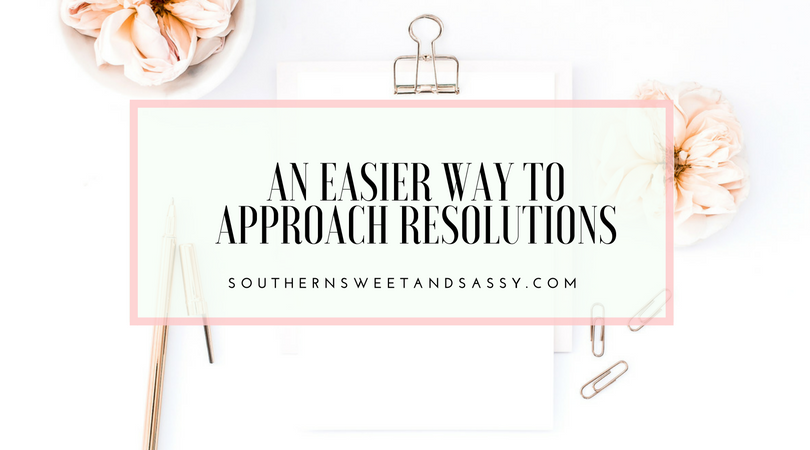 Everyone starts the year with great intentions of year-long resolutions but I can never seem to get those resolutions to stick. For one reason or another, life gets busy and we forget, slide back into our old habits and come March (or September), nothing has really changed. This year, I am approaching resolutions differently. I want to set smaller, achievable goals each month. This way, instead of putting so much pressure on myself at the beginning of the year, I have 12 fresh new starts – one for each month of the year. As much as I would love to hit the ground running with all of the things I want to change about my crazy life, it is darn near impossible to do that without burning out.
Some of these things are small goals that I want to become habits, some are medium sized goals and I have one big goal for the month.
---
January:
Complete my second Whole30 – more here and here
Wake up 30 minutes earlier each day for coffee and quiet time
Designate certain days for blogging/cleaning house/relaxing – Plan out blog posts for the month
Every evening after dinner – clean up kitchen and clear off countertops and table (This should be a no-brainer, but it is a total struggle in our house!)
Floss – this is like everyone's, right? haha
Update skincare routine – taking all suggestions for this!
Hit 10,000 steps on my FitBit at least 4 times a week – I have this one and I love it
Set February Goals on January 27th (Last Saturday in the Month)- Make appointment in calendar!
---
By taking it one month at a time, I am taking bite sized chunks out of my ultimate goals. For instance, I want my whole house to be clean at all times, but it is not a realistic goal with two toddlers running around. I am starting smaller by getting in the habit of keeping my kitchen and dining room clean for the first month. Once this becomes habit, I plan on adding my bedroom or living room. I also want to become more active this year – instead of saying "I want to go to the gym 5 times a week" (a worthy goal, and I wish I could),  I chose to work on my step count so I could take the boys on walks on pretty days, have little dance parties in the living room or "march" around the house with the boys.
It's one thing to state your goals, but it's a completely different thing to achieve them. I plan on relying on my darling husband to "gently remind" and encourage me about these from time to time, but I am also going to write them down and put these goals in my planner and also on my vanity mirror so I can see them every day.
I also love using my phone to help remind me whether through my calendar app and setting appointments or alarms for certain times of the day.
What are ways that you use to help you reach your goals? I would love to hear them!
Happy New Year – Wishing you a fabulous and productive 2018!
Please note there are affiliate and referral links within this post which means I may receive a small commission if you make a purchase with no additional cost to you. Thank you for supporting me and my blog!