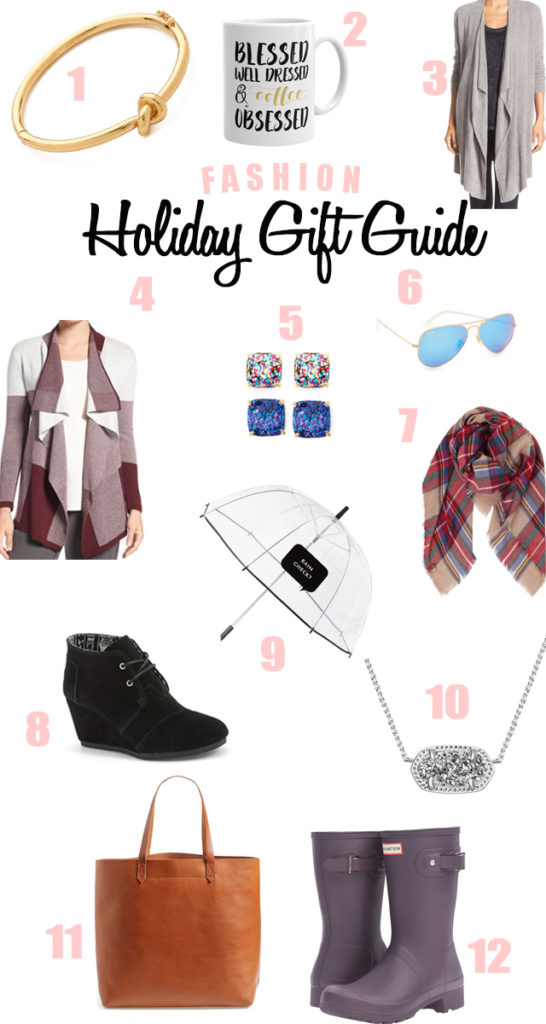 [1] I love that this Kate Spade Sailor's Knot Bangle is simple and perfect to add to your collection of Arm Candy! [$78]
[2] This Coffee Mug is just the cutest for the "best dressed" coffee drinker in your life! [$17]
[3] I have heard these cardigans are the coziest ever! You could wear it home over pj's or out with jeans and a simple top underneath. [$92]
[4] Can I just say that I am so glad that maroon is the "in" color this year? This is another cardigan that could keep you warm on those chilly winter nights. [$79]
[5] Kate Spade multi-color studs and blue studs can go with so many outfits and you don't have to worry about getting the wrong size! 😉 [$38, $32]
[6] I think owning a pair of Ray-Bans is #goals for any fashionista. [$175]
[7] I have a similar plaid blanket scarf and it is so versatile. [$34]
[8] As most of my readers know, I am pretty much obsessed with my Toms Wedge Booties. I have them in the brown leopard print but these black booties are on my wish list! [$70]
[9] Who doesn't want a clear umbrella that will match any outfit you choose to wear?! [$38]
[10] I think pretty much everyone owns a piece of Kendra Scott jewelry, but if you don't, I would recommend this necklace. It is affordable and super pretty!
[11] A large tote is perfect for the Fashionista to use when she needs to carry her laptop, pack a small bag for a weekend getaway, or for a makeshift diaper bag. [$168]
[12] A good pair of rain boots are necessary for anyone who has to go outside when it rains. Which is like, everyone. [$140]
*Please note there are affiliate links in this post which means if you click on a link and purchase something, I might receive a small commission. Thank you for reading and supporting my blog!
If you haven't already, check out my other gift guides:
For the Beauty Lover
For the Joanna Gaines Wannabe
Next week, I have a Holiday Gift Guide for Mommy's and Mama's to Be! <3