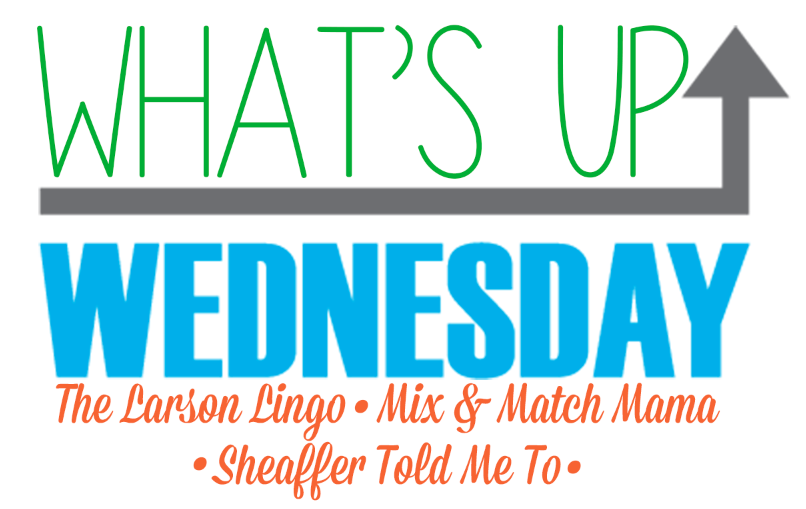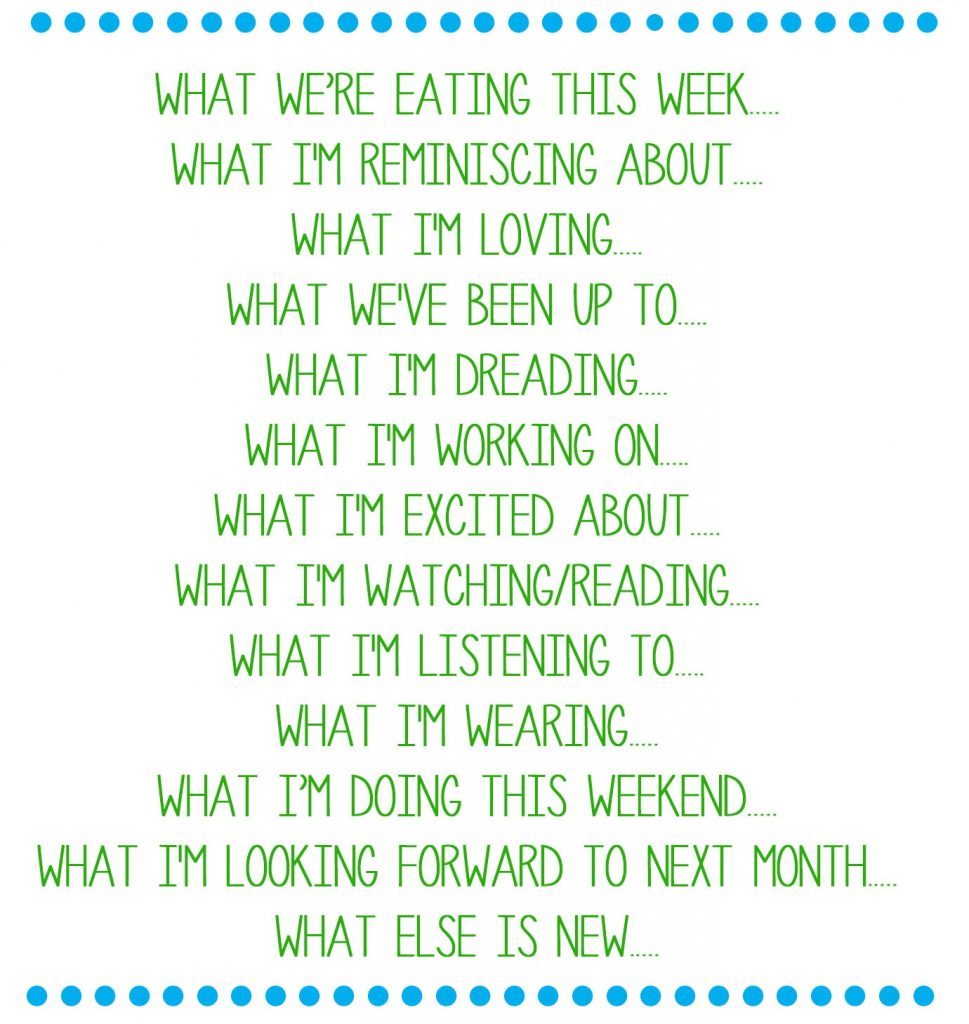 What's Up, Wednesday!? Today I am linking up with Shay, Sheaffer and Mel to talk about what's been going on this month! I CANNOT believe October is almost over. This year is literally flying by.
What We're Eating This Week
All Whole30 meals! Today is Day 10… 20 more days to go! I touched on some of the recipes that were winners for our family here.
What I am Reminiscing About
Halloween last year! I had a 16 month old and a sweet (almost) 4 month old.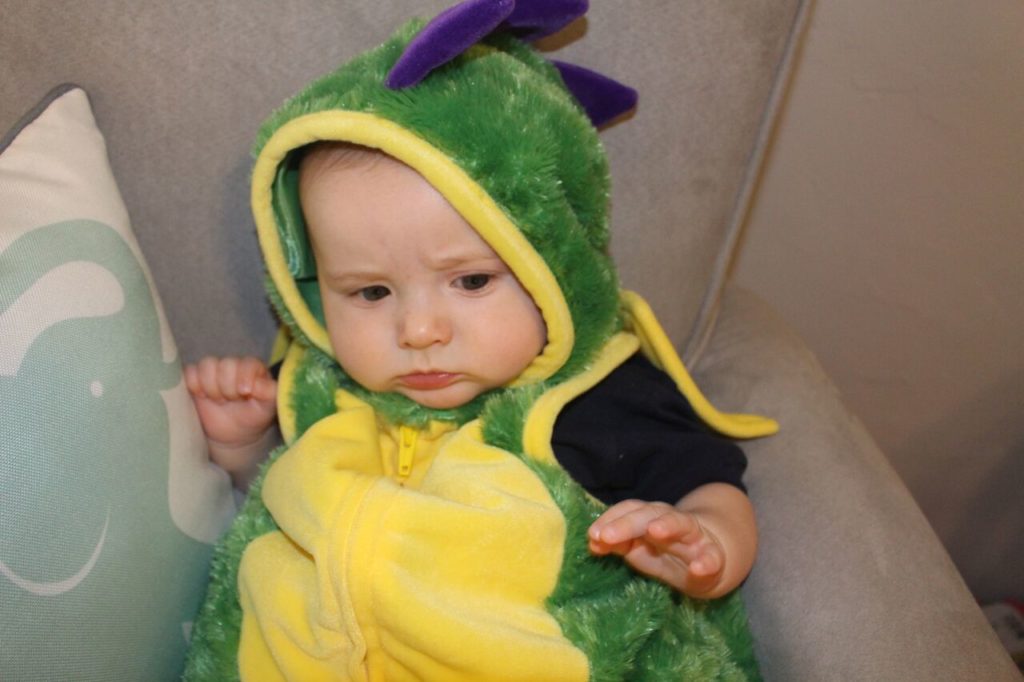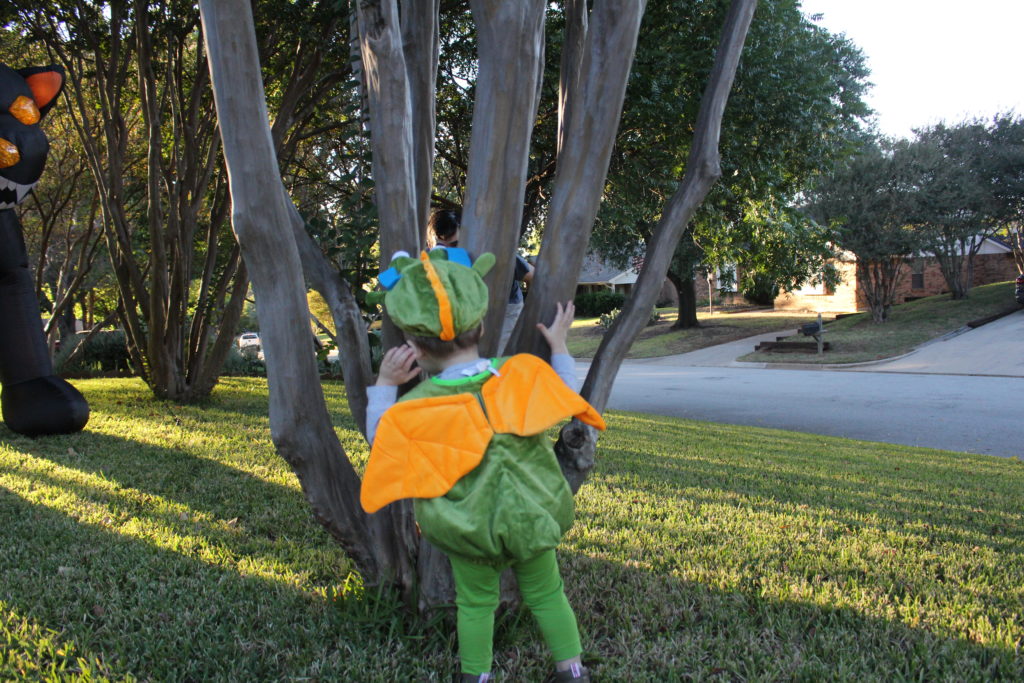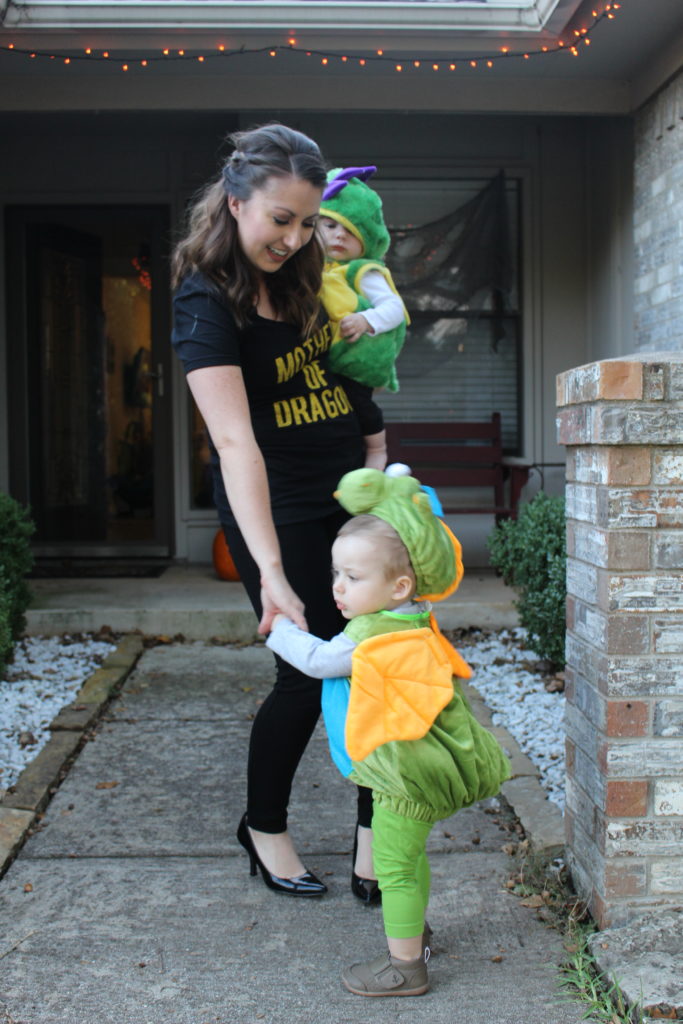 Sweet little dragons! 🙂 Life was tough with two under 18 months! It still has it's challenges (like a wild child 15 month old) but another year of motherhood under my belt helps!
What I'm Loving
The cooler weather! We even had to turn on the heater this morning. It is supposed to warm up again tomorrow but this weekend is going to be COLD! So excited to break out all my cold weather gear.
I'm also loving this age Luke is in. He has been learning leaps and bounds the past few months and it just amazes me the things he knows. Our vocabulary has just exploded, he knows his ABC's and can count to 10 on his own. He is just a happy little guy and such a good buddy to have around. He does very well playing by himself and plays alongside little brother too. (and of course as I write this he is throwing a fit at my feet. Typical)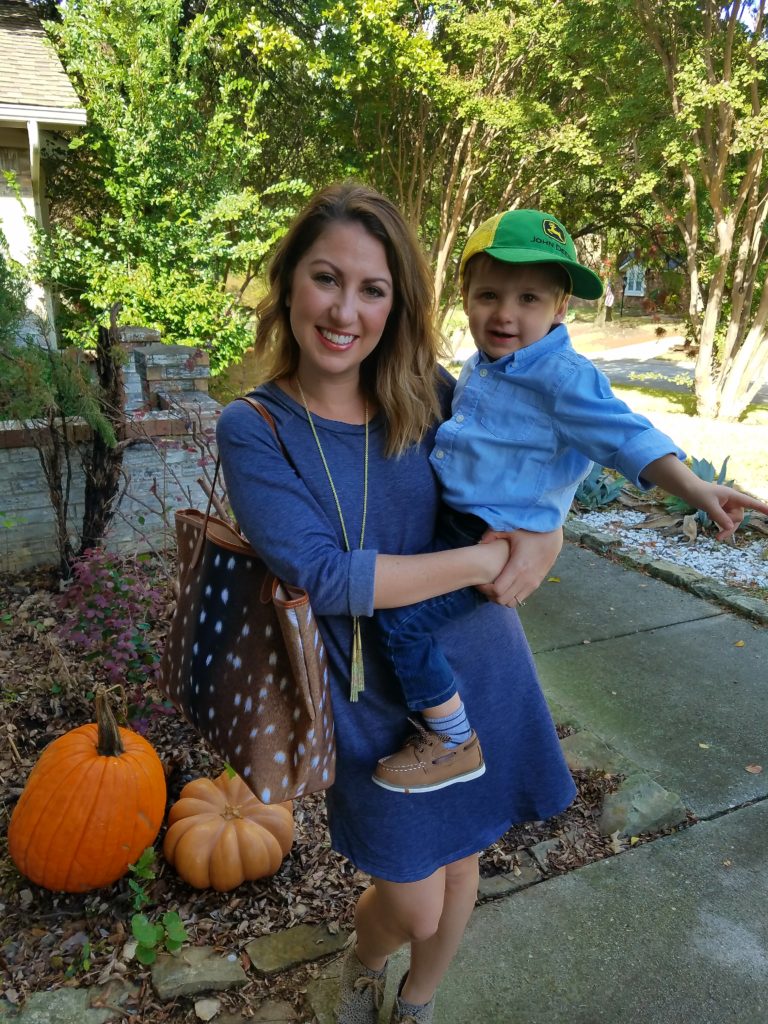 P.S. I found this dress here and you can snag this bag here 🙂
What We've Been Up To
We have been missing lots of our weekly activities thanks to multiple rounds of feeling under the weather… Just when we think we are all healthy again, something else comes around. Mama is the victim today 🙁
Other than that, we have been playing outside and going on walks – we even discovered a new trail to the park last week. So fun!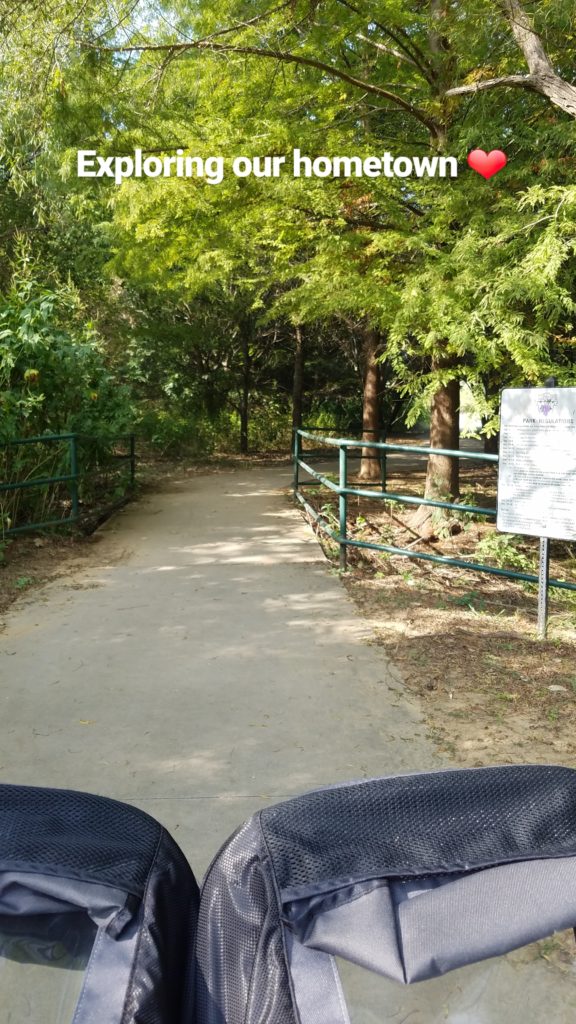 I also cleaned out and reorganized our little pantry. Its the little things that just make life a little easier.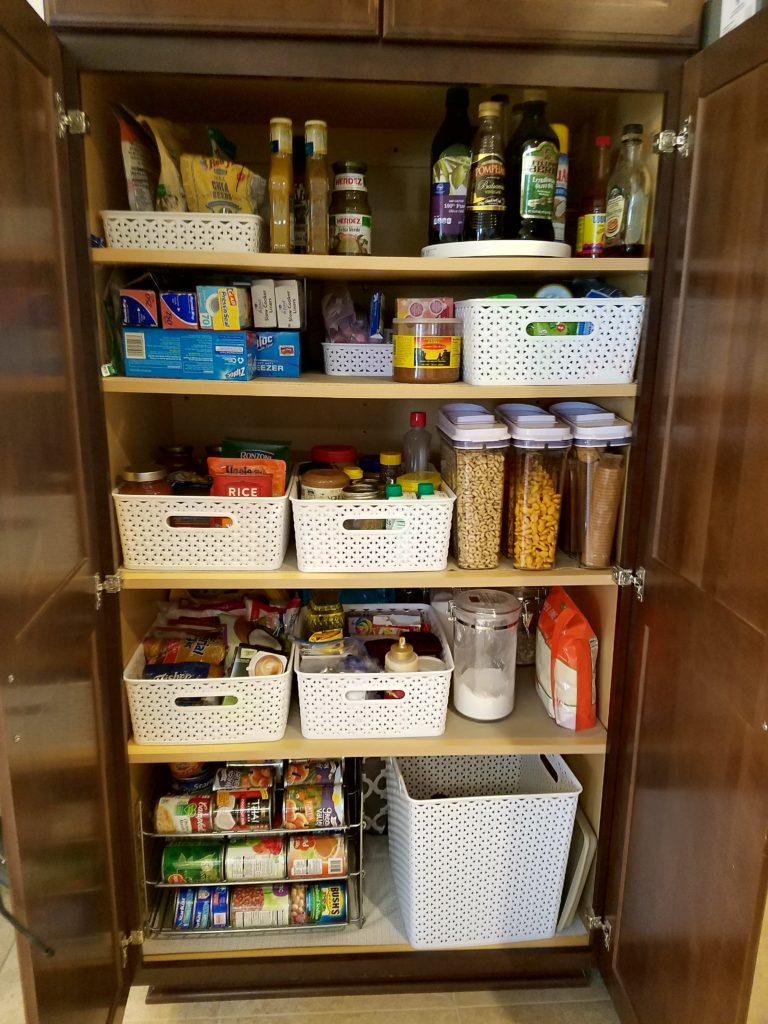 What I am Dreading
Nothing really…maybe just household chores…Laundry is a never ending task!
What I've Been Working On
I have really been trying to make this blog a priority again. My current posting schedule is every Monday, Wednesday, and Friday. Be sure to sign up for email updates so you never miss a post 🙂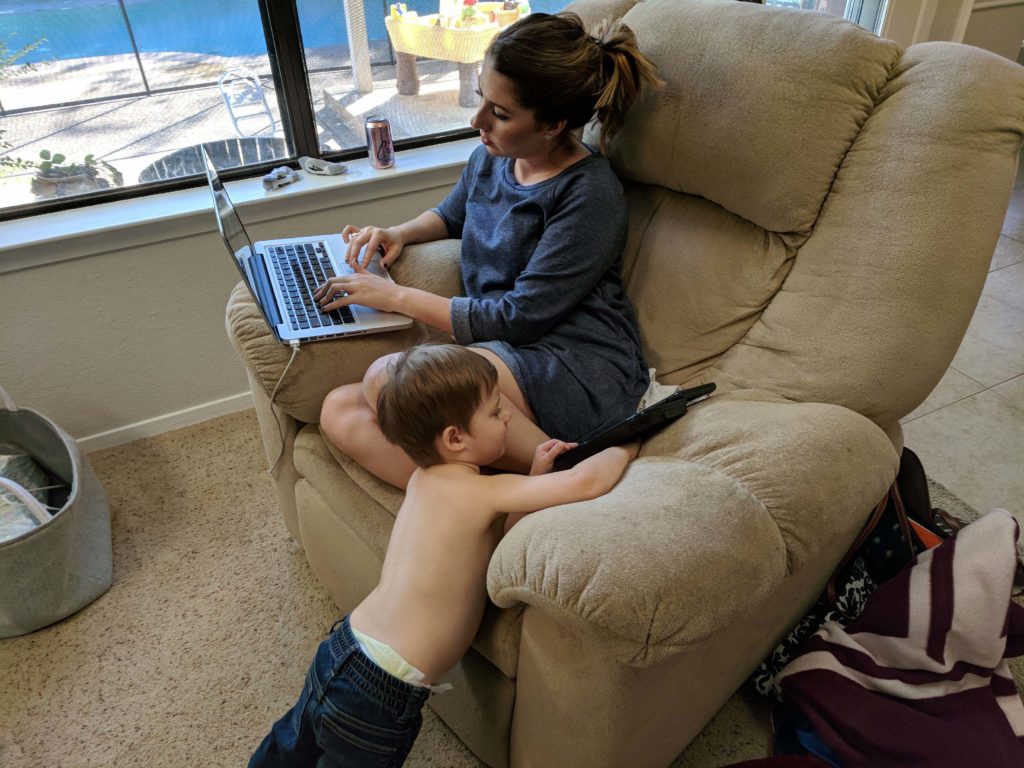 Blogging is a family affair 🙂
We are also trying to finish up our living room update…it's been pretty much two years in the making but the To-Do list is shrinking somewhat!
What I'm Excited About
Halloween. Thanksgiving. Christmas. This is the best time of the year.
Pics from our small group's Halloween Brunch this past weekend: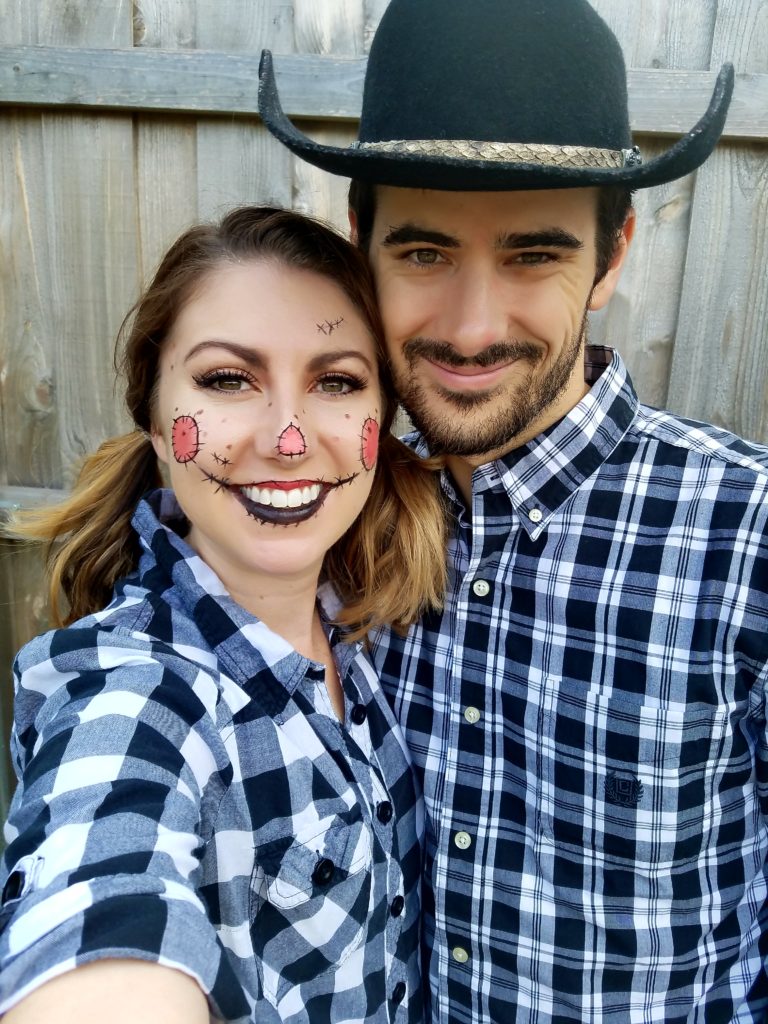 Scarecrow and Farmer 🙂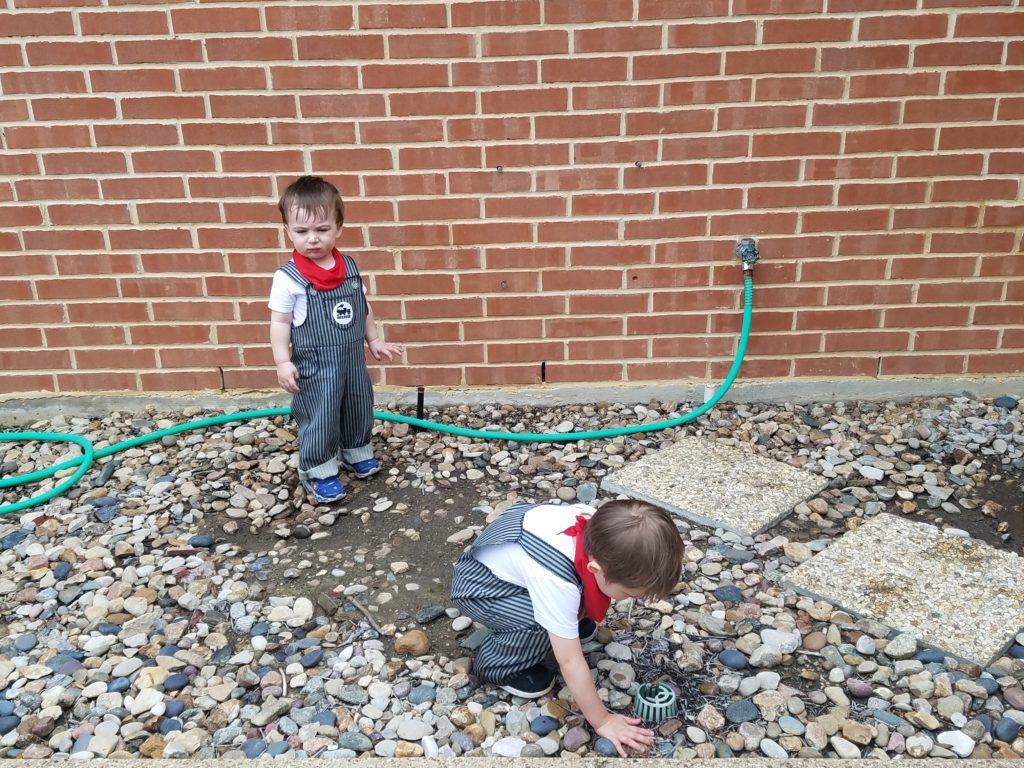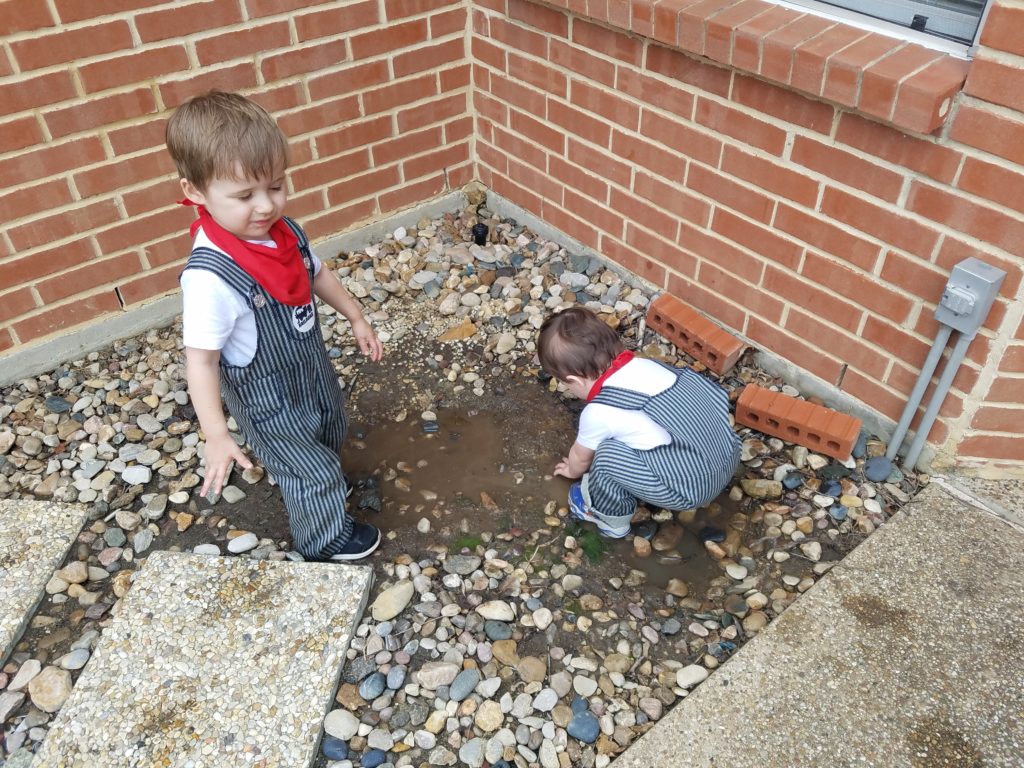 Leave it to these two boys to find the mud puddles 😛
What I'm Watching/Reading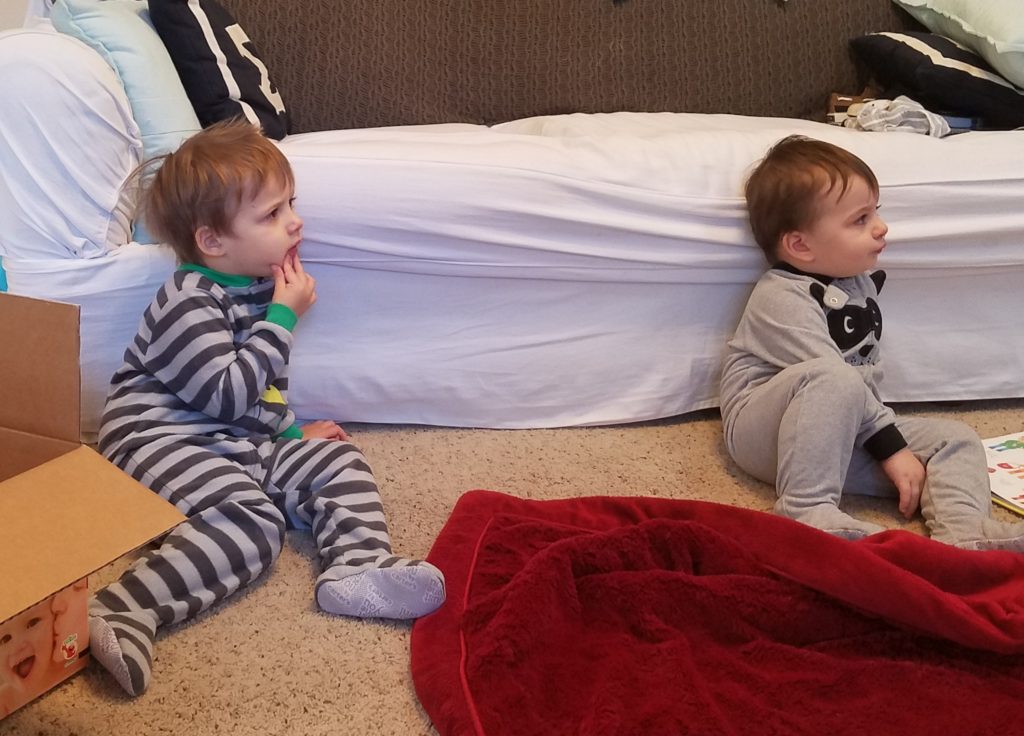 I honestly haven't been watching anything except Friends on Netflix or Paw Patrol or Bubble Guppies. Or Little Baby Bum on Netflix.
What I'm Listening To
Podcasts! If you liked Serial (I only got into the first season of that), then you would like this one… David and I just finished the Up and Vanished podcast – a missing person cold case about a Georgia beauty queen that disappeared about 12 years ago. The podcast really put life back into the case and about halfway through the season, an arrest was made… It is such an interesting case with so much information and I totally recommend if you like that kind of stuff! The one thing I will say though – it is not a happy and uplifting podcast and honestly the subject matter is depressing and I would be in a funky mood after listening to it.
For a pick me up, I have been listening to Timeless Soul Ballads on Spotify. You're welcome.
What I'm Wearing
The clothes from my Stitch Fix!
I'm also (not so patiently) waiting for a few packages to arrive including the following: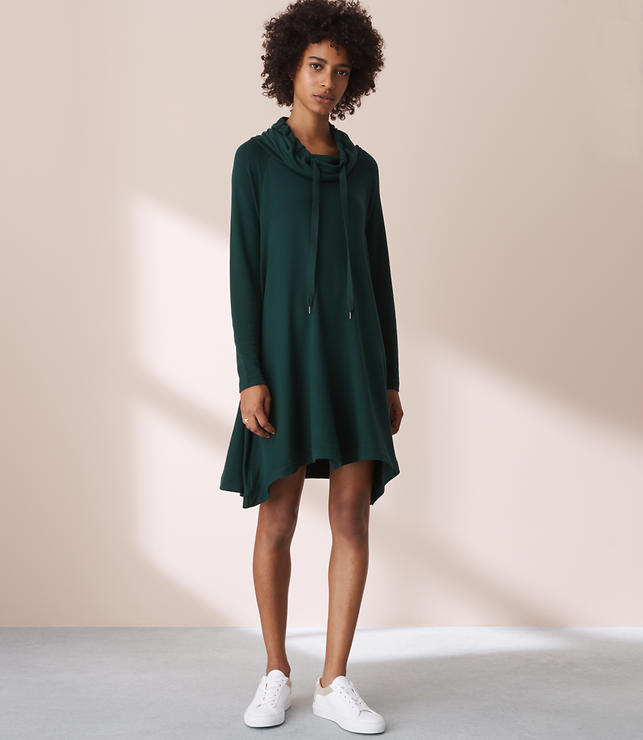 This dress. I got it as part of the 50% off sale Loft was having and I think it's going to be one I wear all. the. time.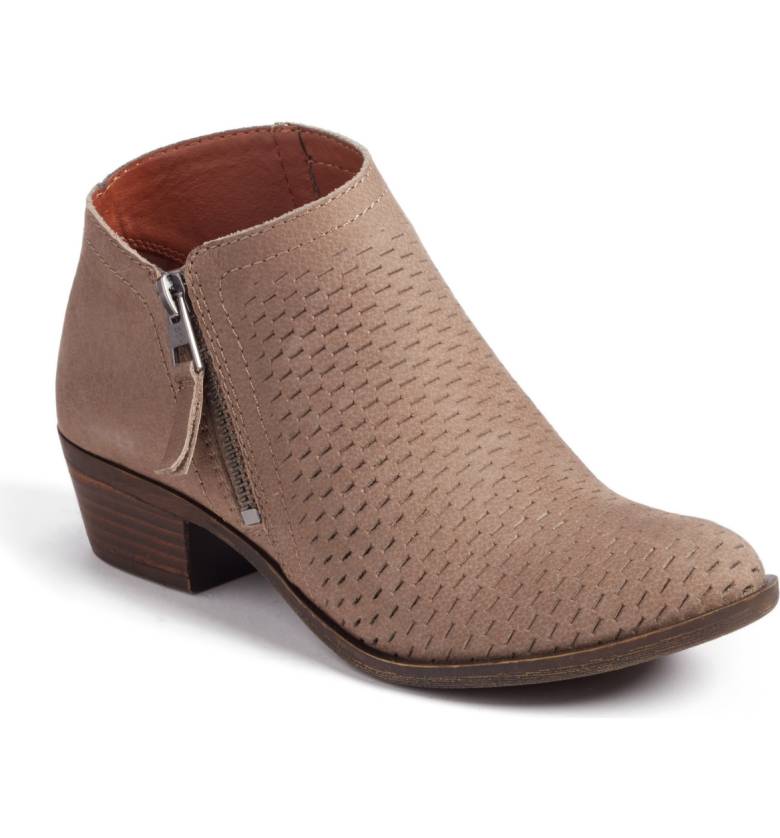 These booties. I finally pulled the trigger after dreaming about them for a while now. They're currently 30% off so treat yo self!
What I'm Doing this Weekend
It's a weekend in the fall, what else would I be doing? Headed to Aggieland to see our Aggies play!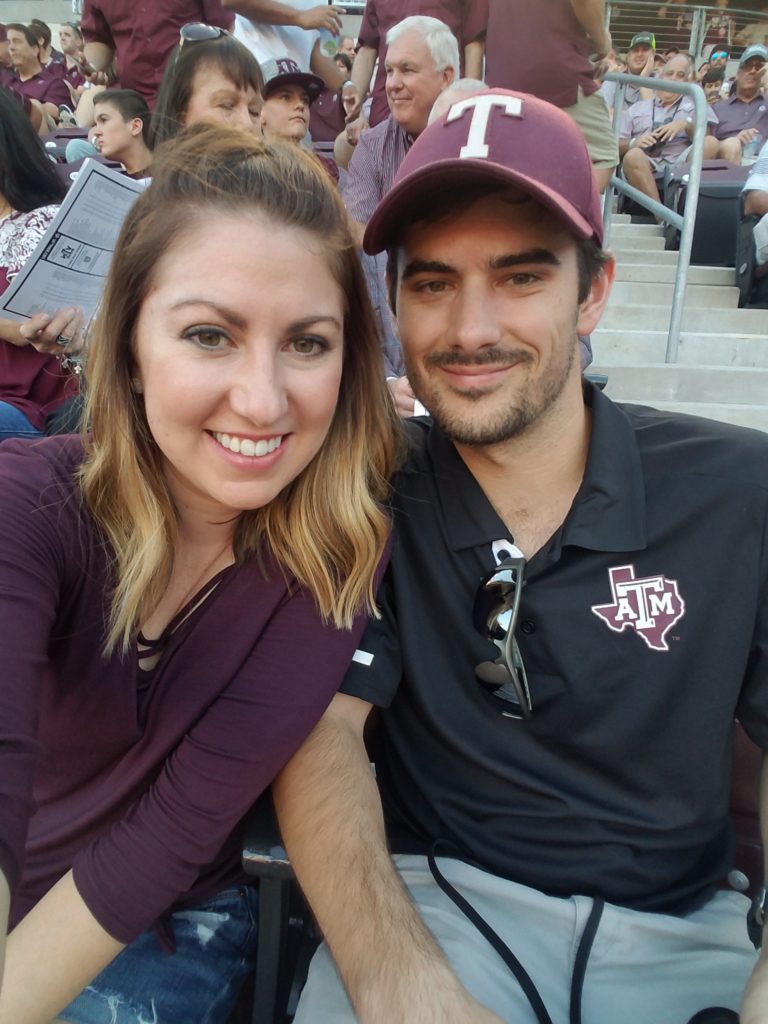 What I'm Looking Forward to Next Month
Thanksgiving…the end of Whole30 (haha!). We are also leaving for a 5 year anniversary trip after Thanksgiving (provided there are no more hurricanes). Our first trip was cancelled after Hurricane Irma destroyed St. Maartin. While we we bummed, we are just so thankful we were not there when the hurricane hit and our prayers are with all those affected by the destructive storm.
What Else is New
Nothing really!
Bonus Question: What is your favorite Thanksgiving Side?
This is a tough one for me because I pretty much LOVE all Thanksgiving sides! It is pretty much a tie between sweet potato casserole with marshmallows and pecans on top and my grandma's stuffing recipe. Something that I have been craving is the Thanksgiving Burger from Snuffers… It's a turkey burger topped with stuffing, cranberry sauce and swiss cheese. I am really hoping they bring it back this season!
*Please note there are affiliate links in this post which means if you click on a link and purchase something, I might receive a small commission. Thank you for reading and supporting my blog!