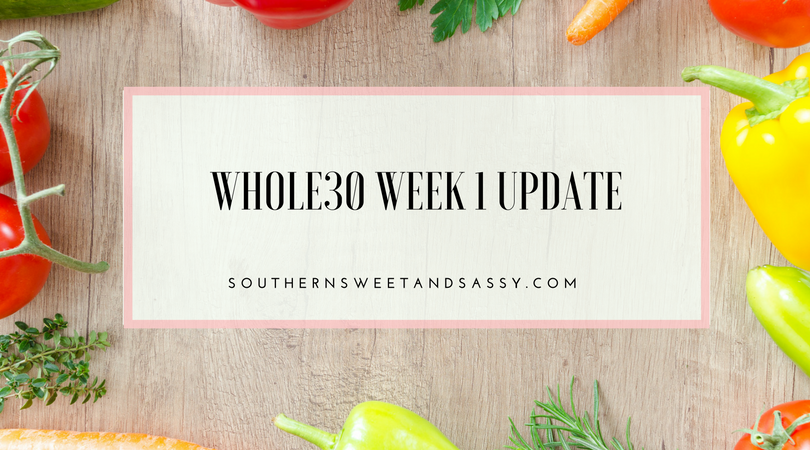 Whew! One week of Whole30 under my belt and honestly, the fact that I still have 23 days left is pretty daunting. In all of my previous attempts of "healthy eating" I get to this point and just get a big craving for a large burger and fries or tacos. There have been plenty of times this past week where I am this close to reaching for that piece of chocolate and I have to stay aware of my actions because I am so used to stealing a few bites of whatever the boys are eating.
This week has been pretty smooth sailing in terms of eating. I meal prepped a lot before hand which made life so much easier. For those of you that are interested in what I ate my first week, here is a breakdown. WARNING: It's pretty repetitive!
What I Ate

Day 1
Breakfast: Easy Egg Scramble – Recipe here
Lunch: Ground beef, butternut squash mix – Recipe here
Dinner: Beef Stew – Recipe here (slightly altered with stew meat)
Day 2
Breakfast: Same as Day 1
Lunch: Same as Day 1
Dinner: Beef Stew over baked sweet potato, small spinach salad with tomatoes and carrots
Day 3
Breakfast: Scrambled eggs
Lunch: Baked sweet potato topped with almond butter, Aidell's chicken apple sausage
Dinner: Buffalo shredded chicken (recipe) with baked jicama fries (recipe)
Day 4
Breakfast: Banana with Almond butter
Lunch: Potato, Sausage & Kale Soup – SO yummy! Recipe here
Dinner: Potato, Sausage & Kale Soup
Day 5
Breakfast: Banana with Almond Butter
Lunch: PSK Soup
Dinner: PSK Soup
Day 6
Breakfast: Easy Egg Scramble
Lunch: last of the PSK soup ladled over a baked sweet potato (THE BEST)
Dinner: Zoe's Kitchen Kebabs, Roasted Veggies & Potato Salad.
Day 7
Breakfast: Banana with Almond Butter and Chicken Apple Sausage
Lunch: Chicken Avocado Soup (sans avocados b/c Walmart didn't have ripe ones) Recipe here (similar)
Dinner: Chicken Avocado Soup & baked plantains
Like I said, pretty repetitive but it got me through the week. There are only so many nights I can be in the kitchen making a new meal before I burn out. Whatever gets you to the finish line…as long as it is somewhat balanced, I say you're good 😉
Also, YES. I was so pleased to hear that Zoe's Kitchen offers Whole30 compliant meals. It was absolutely delicious and I am so thankful that my friends over at The Babbling Blondes shared that little fun tidbit!
Non-Scale Victories
I stayed strong and did not give into temptation when out in social settings. No "just one bite" of cake or "sip" of Dr. Pepper
I have been excited to try new recipes in the kitchen. I shared the Potato Sausage and Kale soup with my sister and she loved it!
Since making my monthly resolution of keeping my kitchen clean – I have been able to stick with it. It has helped me have a positive attitude when I have clean dishes in the morning and plenty of counter space to work. (If you didn't know, I'm notoriously messy.)
The "Hangover" stage of the Whole30 (typically days 2-3) was not very bad. Sure, I was tired and lethargic, but no real headache like I remember the last time I did a full Whole30.
I have not been tempted to get on the scale…mainly because I know from last time at this point in Whole30 when I got on the scale, I weighed MORE than when I started. Talk about frustrating! DON'T STEP ON THE SCALE! Trust the process 🙂
Struggles
No chocolate…or basically anything sweet after meals. I have been reaching for herbal tea and kombucha a lot instead.
I am still pretty tired but I can see improvement
Staying motivated. "Yeah, I know this is good for you, but life is short. Eat the cookie" Mentality going on right now. – Its only 30 days, Jordan.
Goals for Next Week
Continue to try to make complete meals (protein, fat, carb) in order to get full and stay full until my next meal.
Try 2 new recipes
Continue writing in my Whole30 Day by Day book
Drink more water
Are you doing a Whole30? What day are you on? What has been your biggest struggle or NSV this week?